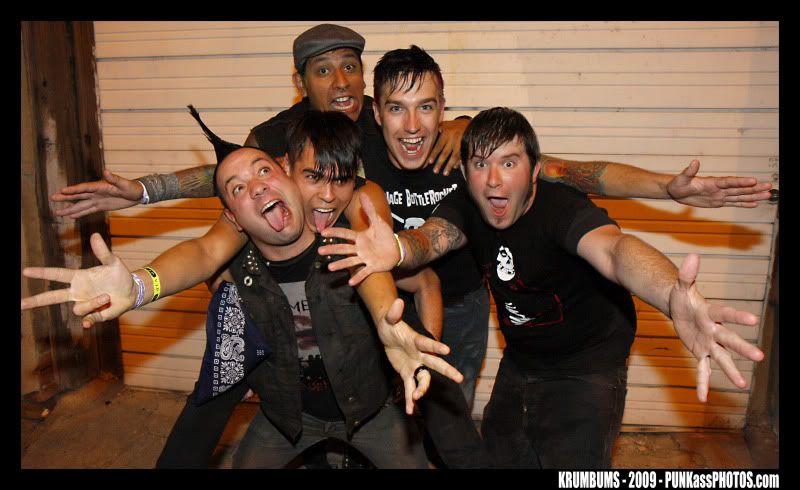 Earlier this month, the city of Austin once again kissed her surly and smelly punk-rock step-children on the cheeks and sent them bumbling into the streets.
The Krum Bums, a staple of the Austin punk-rock scene, stuffed themselves into their lemon of a tour van and hit the road. Their mohawked silhouettes could be seen in the distance as they embarked on a month-long tour of the East and West Coasts, playing with punk veterans The Casualties. 
This being their second tour of the summer (their first was with The Germs), the band knows their cross-country showcases come at the price of missed hygienic opportunities, funny smells in close quarters and measly food rations. But, with the blistering 2007 release As the Tide Turns and a 2008 Austin Music Award for Best Punk Band under their spiked belts, they tout their latest EP release Same Old Story.
Almost 10 years after their musical band name was mothered by a stoned viewing of an episode of The Simpsons, The Krum Bums' "hard work, hard play" reputation presses forward with their ferocious guitar hooks, breakneck drumbeats, grim lyrics and apocalyptic imagery. The self-proclaimed "Sweatiest Band in the United States of America" is known for riotous shows with beer-spewing vocalist David Rodriguez singing from rafters or swilling whiskey that he just yanked out of a bartender's hand. The band has gone through a number of lineup changes but never fuzzed out. With the latest departure of original member and bassist Javier Vigil, the remaining original members are Rodriguez and guitarist Trae Martinez. Vigil was replaced by Ry Meyer, who rounds out the quintet alongside guitarist Justin Hall and drummer Tommy Gonzalez.
The night before the CD release, I sat down with Rodriguez and Gonzalez at a smoky pool hall called The Grand. A common dive for the two, their affinity for the place is true-blue with drinks that pour heavy and price cheap. Rodriguez was armed with a tall vodka-soda and Gonzalez was smiling with a shot of tequila in his belly and a Modelo in his hand.
Tell me about the name, Krum Bums. I hear it has both funny and deep origins.
David: Well, I played with Javier and Trae before the band in the late 1990s. Then I moved away to live in Baltimore and it completely sucked. So, I came back with a mission that I was going to start this band and we were going to make snotty punk rock music because there were no bands doing it. Trae and I were sitting around watching The Simpsons and Principal Skinner calls the kids Crumb Bums. We knew that's what we would call the band.  Then I started to find out what it truly meant and I was talking to my great-grandmother who asked me what I was doing with myself. I told her I was playing in this band called the Krum Bums and she started laughing and said that she hadn't heard that word in years. I asked her what it meant and she explained that back during the Great Depression they would have bread lines and the little street kids would go underneath the people and scoop up all the crumbs and leftovers from people who had bread and from where they were cutting the bread to survive. And, it turned out to be a perfect name for us. All of us were broke shitheads who liked to party. Plus, it just sounded right when people said, "Oh I went to a Krum Bums show, got beer spilt on me and got hit in the head with a bottle by the singer."

 Krum Bums live at Red 7 on August 14, 2009 (photo by Bob Kinney)
The band is multi-ethnic. In Texas, the Hispanic punk, rockero, Latino punk or Mexican-American punk scene is growing and thriving, as are the other scenes. Is that something that the band really runs with and has embraced since the beginning as part of your image or is it something that the fans have created to identify with you and your oppositional lifestyle and points of view?
David: It wasn't really something we thought about at first. It always meant something.  I think with the whole band, we looked around and we were what we saw around us. The way we related it although we were a punk band with Mexicans was more the way we laughed, and the way we grew up and that we have these jokes. Like, we all knew what it meant when one of us would say, "Ch-chh!" even though it can mean so many things. And, if someone farts in the van, the first thing we say is "Cochino, cochino." Also, it's a sense of family. I've noticed we spend a lot more time hanging out with our fans than other bands. We drink beers with them, have lunch…
Tommy: Picnic, beach walk…
David: Nothing better than a beach walk in Corpitos, Texas! When you can relate with someone naturally, not so much ethnically, they connect with you and they feel like you're not just a band. Instead, you are someone they want to support and they feel like they are somewhat in the Krum Bums. That's why we always say the Krum Bums are more than just the five of us. We can go almost anywhere and know that we have a place to stay if something is going wrong financially.
Your music on both Same Old Story and As the Tide Turns has some really dark lyrical content with apathetic and apocalyptic themes. What books or experiences spawned this?
David: I'm really into reading about historical events and somehow linking them to happenings today. Over time, I think patterns and things really don't change. At the time of Tide Turns, I was really into researching the bubonic plague and even though we don't that so much anymore, we have this apathetic mental state, this mental disease. And, remember at the time I was writing the album we had George W. Bush in office. For songs like La Plaga, the inspiration came from a drive to California through El Paso and the border area where we just started seeing yellow signs on the roads for people to watch out for crossing families and children. Those signs are really common there, but you know I don't think people really think twice about it, the sign is like basically saying, "Watch out for the crossing illegals! You might hit a Mexican." Granted, I was probably really hung over but could across the border I could see all these shacks and mud houses. It's so messed up because from where I was in the van I could have thrown a rock one way and hit poor families in their small houses on that side and thrown a rock this way and hit a McDonald's or a Walmart. I don't know it's just so messed up that this country is wasting time and money to keep the people away from us who are our neighbors. Meanwhile, they are sending troops to liberate other countries. This is fine, liberate them, but what about the people next door to you who are getting shit on?
Saludos a los Krum Bums at Red 7 in Austin, Texas. (Photo by Bob Kinney)
Most of you guys, except Justin, are young but not that young. Let's get nostalgic. How did you get into the punk scene and how did it change your lives? Tell me about the primary foundations, whether it's changed your lives for the good or for the bad.
David: EEEEEHHHH! I don't have any money in my pocket. My teeth are kind of bad. I'm addicted to all sorts of things I shouldn't be. I drink too much. But also, I think it's kept us all young at heart. HAHA! I don't know too much about my heart being young, though…my soul maybe. If you squint and don't look too close at us, you don't know if we are in our thirties…
Tommy: Yeah! Yeah! We could be in our late twenties.
David: As much as people think Texas is this hillbilly place, it's just the same as anywhere else. But, Houston, San Antonio, Dallas and other cities have such great punk scenes. Sometimes, just from a small town makes punk rock all that much more important. I'm from Pflugerville, which is close to Austin, but being from there I couldn't just hop on a bus and just go somewhere or walk to go see a show or go downtown. All you had was your friends and music.
I think being from Texas made us love punk rock even more because you wanted something to rebel against and also just something that was hardcore and had feeling. From the first records you would get, from The Exploited to The Descendents, when I listen to it now, I get shivers, just thinking about when I used to listen to those albums as a kid. I remember the first time I heard those albums, or the first time I really got wasted.
Tommy: I got into it through my big brother. Somebody had given him an Operation Ivy tape when we were kids. And, I grew up in Houston and it had a big scene and tons of accessible record shops. We were able to go out and just discover music which is what punks did back then. There was no Hot Topic. You had to go find the record store that wasn't Sam Goody that had vinyl and that had what you wanted. That was part of the appeal. It was all about having this one special thing you found yourself or that you and your three outcast friends at school found together that no one else knew about! It was awesome. You knew that maybe Saturday night you would catch a punk show and you would do something crazy. Meanwhile, everyone else would do something super lame and drink Natural Light and fuck off.
During your tour with the Germs, can you tell me about what happened with Pat Smear on July 4th?
David: He left the tour to play at the White House with the Foo Fighters, so Justin our guitar player had to learn and got to play The Germs set. People can say what they want about The Germs in their newest lineup with Shane West. But, he is awesome.
Tommy: Yeah, Justin saved that show. Originally, it was going to be canceled and all of us were going to go to the White House and watch the Foo Fighters perform. The Secret Service took all our names down and where we were from and came back to us and said we weren't allowed in the White House and that they didn't even want us in the city.
David: Barack is cool, but he's not that cool, yet.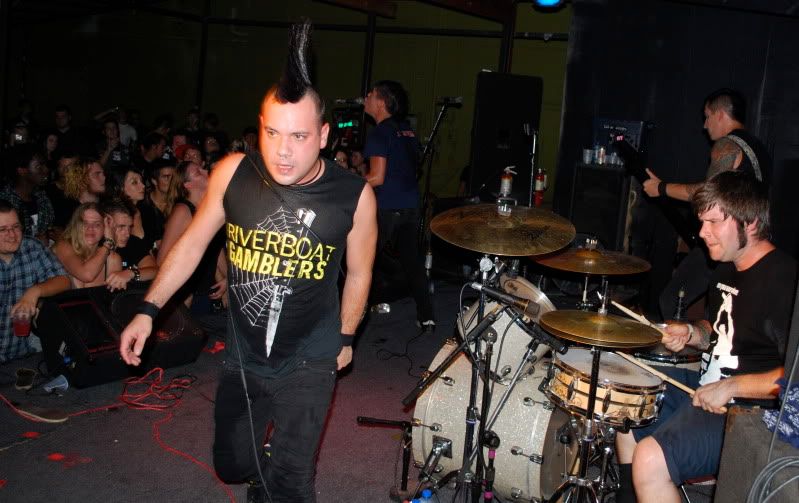 The Krum Bums live at their CD release show on August 14, 2009 (photo by Bob Kinney)
Speaking of The Germs, have you guys ever been told your punk band would blow up if you moved to Los Angeles?
David: I see what you're saying, but no way! Austin, in my opinion, is the best scene to be in. We are the biggest little city you will ever go to. If you go to Los Angeles, New York, Minneapolis, and you tell people you are from Austin, they just know where we're comin' from. Sometimes in those cities they will ask me, do you know so-and-so and it's like yeah I know them, we all hang out together. You can go to a show and look over and there are members of World Burns To Death, Riverboat Gamblers and Lower Class Brats.
Tommy: No way, we do much better here. Everybody hangs out with everyone. It's a united scene. Not like in other cities where kids say, "Oh, well we'd never go to a skinhead show," or "We fight with the crust and oi punks." We all hang out, just rockers.
Tommy, I have a directed question for you. Do you ever feel like the drummer is the unsung hero?
David: Oh my god!
Tommy: I have been waiting my entire life for this question. No, I think it's just part of my job. I sit in the back of the band and keep it moving. Everybody sees the train, they don't see the engineer. It's just my role and it's cool. I get a lot of respect as a drummer and I have no problems with it.
David: HAHA! Can I add to that? With Tommy in the band I have had more people come up to me and say how badass they thought the band was Tommy. My ego was a little hurt, HAHA! This girl at one show came up to us and said she thought we were great and I thanked her. I'm only 5'4 but my ego is 6'3. Anyway, she said that she wanted to get a Krum Bums tattoo, like an autograph. Meanwhile, I was waiting for her to ask me and I start looking around for a Sharpie and she grabs the marker and says, "Okay, great! Where's your marker? I'll be right back."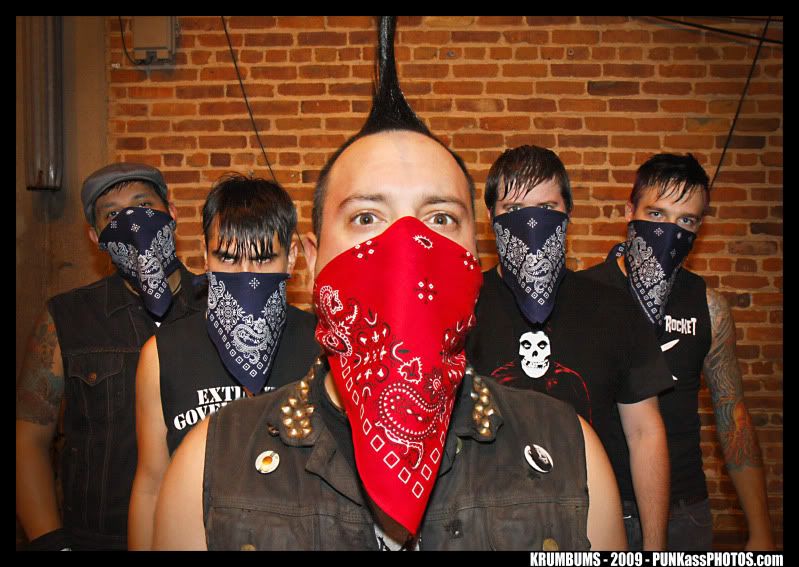 To what do you credit your success or notoriety thus far, in the local scene and beyond?
David: Suck-suck-what? Success? I think a lot of it is that we haven't gone anywhere.
Tommy: HAHA!
David: Literally, we haven't gone anywhere! HA! No, seriously, we started in 2000 and we are about to have been around for 10 years. When we first started this band, I got a house with Javier and I told him that if we were going to make it anywhere in this scene. I mean there are some great bands in Austin but they're not able to leave Austin to tour, so I said if we are going to do this, "Let's get a house, have shows and throw parties and when bands come into town, we take care of them and hope that when we tour with them, they take care of us." It worked out perfectly. We still keep that ideal. If we take care of people, they will take care of us. That mentality has really been part of who we are. As unprofessional as we are, I guess compared to other people that work in the music industry, if we say we are going to be somewhere or do something, we will be there and we will do it.
Any last words?
Tommy: We will make it no matter what, I just hope our van makes it.
David: I hope the van makes it, yeah. And, I hope the guys pick me up out of the street if I pass out. Yeah, I'll leave the bar and the newspaper stand looks comfortable to lean on.
Tommy: He's a pro-street sleeper. We are so desensitized to it. Other bands and other people who haven't been around us before will be like, "Have you seen David? Is he okay? He's passed out on the table and he needs help." And, we all know that's what he does.
For more on The Krum Bums, visit their Myspace page at www.myspace.com/krumbums