Over the past decade, the Latin alternative genre has grown by leaps and bounds. The music is more diverse and more modern in comparison to its rock en español roots of the '80s and early '90s. The Monterrey, Mexico, music scene is responsible for a large part of that growth and evolvement. Monterrey's own Latin alternative headliners (all-stars, maybe), Kinky, are a large part of that growth and the genre's success. Having conquered the Monterrey club scene early on, the quintet's worldwide fan base has only grown. Having released what may be their best album in spring of 2009, Barracuda, their stock will only continue to rise.
Unfortunately, Kinky was not able to play a show here in Austin this year. In order to see one of the greatest Latin alternative acts on the scene, Austin Vida had to travel up Interstate-35 to catch them at the House of Blues in Dallas. Before their set, we got to speak with Ulises Lozano (keyboards) for 10 minutes to chat about Barracuda, soccer, video games and what's coming up in 2010 for the Monterrey rockers.
How is Barracuda different from all the other Kinky albums?
Ulises: First of all, this was an album that was co-produced by a couple of friends. That included Money Mark, the keyboard player for the Beastie Boys. The previous albums were albums we did on our own. This is the first time we opened our doors to new people, which gave us a new kind of sound for the band.
Was Chico Sonido involved with Barracuda?
Ulises: Yes. He is another producer/DJ from Sonora, Mexico, as well. He also has a good album out. Having these collaborations gave us a new sound. I think we went in a more melodic direction than the previous albums.
After having toured in the U.S. to support the album, what's been the reaction to it? Are people liking the new sound?
Ulises: It's been already 10 years now as a band. Our path has been developing here (in the U.S.) little by little. It's felt very good. Every time we come to the States, we had the opportunity to visit a new city or play to a city where we have played before. In those cities we are seeing more people than before. After these 10 years, it's amazing for us to share our music with more and more people here.
What difference do you see now, 10 years later, when you go back to Mexico and play a show?
Ulises: It's amazing now. We started playing in small clubs and venues in Monterrey. Now we are playing big shows and festivals where we play in front of 10- to 15-thousand people. We see the response is bigger now in Mexico. The people really understand our type of music and are more open to new genres than before. Mexicans have a really great sense of music. Speaking of Monterrey, I've noticed there is a lot more diversity in terms of musical talent and bands of different genres popping up. I don't really remember that happening ten years ago at this level.
What is the scene like now in comparison to when you started 10 years ago?
Ulises: It's very interesting. Monterrey is a city where many people come to study and work. It's a very industrial city. The combination of people coming from all over the country or even different parts of South America, even the United States, makes people more open to different points of view. That makes people more open to different kinds of music as well.
Who do you like coming out of Monterrey right now?
Ulises: Well, actually we haven't been to Monterrey that much to see what's going on there. In Mexico, I think things are really interesting coming from the indie area. There are a lot of small acts, but with very good passion and different sounds.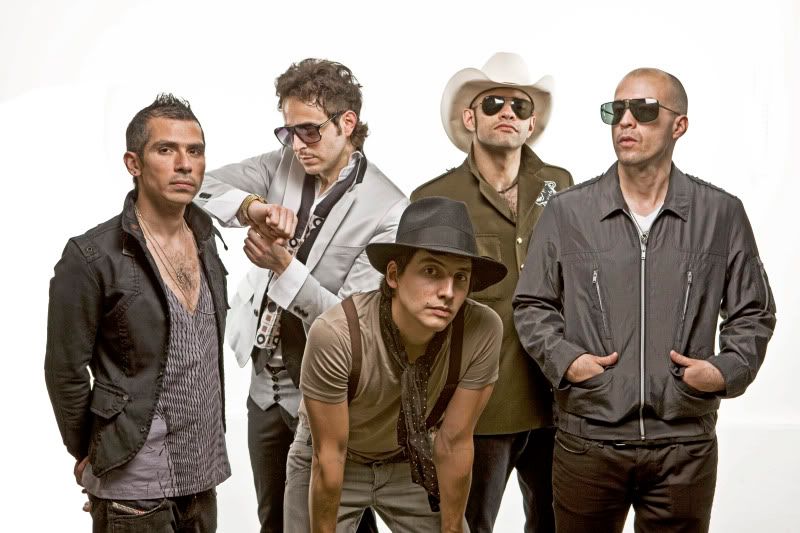 So when are you guys coming back to Austin?
Ulises: We are trying to get a tour together for February. We want to go back to Austin. Every time we have been there it has been amazing. We will try to go there as soon as we can.
I have always wanted to ask you: How is it that you guys always end up on all my favorite video games? I don't know how many times I've played FIFA and end up singing along to your songs.
Ulises: We do play a lot of those games and are really into finding more windows for our music to be exposed. It is amazing that at moments like playing video games can help discover new bands. I love to play the Grand Theft Auto games and switch between the different radio stations. It's great.
It seems the soccer world, or futbol rather, really loves you guys. Tell me about what you guys did out in Los Angeles with the Galaxy.
Ulises: We did their theme song or team anthem, called "We Are The Galaxy". We love soccer and it was great to be part of all that. Even though we don't play that much, because we aren't so sporty, we enjoy it fans. The World Cup is amazing and we enjoy FIFA video games. We have a new song on the new FIFA game also.
Way to work that in there. So who are your favorite club teams?
Ulises: For me, when I was more into soccer and just moved to Monterrey from Chihuahua, I saw how passionate people there were about the Tigres and Rayados. Cesar, the bass player, is more into Las Chivas.
Have you embraced the Galaxy now that they use your song for their team anthem?
Ulises: Totally. We have been to some of their games and really enjoyed it. It's awesome to hear your song in that big stadium and hear people singing along to it.
So now that you are soccer stars and rock stars, what's next for Kinky coming up in 2010?
Ulises: Right now, we are finishing up supporting Barracuda. Hopefully by summer of next year, we will have a new album. We definitely will have a tour set by February.
–