Photo by Sandy Carson
This Friday, February 6th, San Antonio's own Hacienda will be performing at Fashion Freakout 2 at The Mohawk. Hacienda will play two sets, intent on getting people dancing and feeling good all night. They are fresh off of Rolling Stone's "Hot List" and the word on the street is these guys put on great live show. We'll be there covering it all.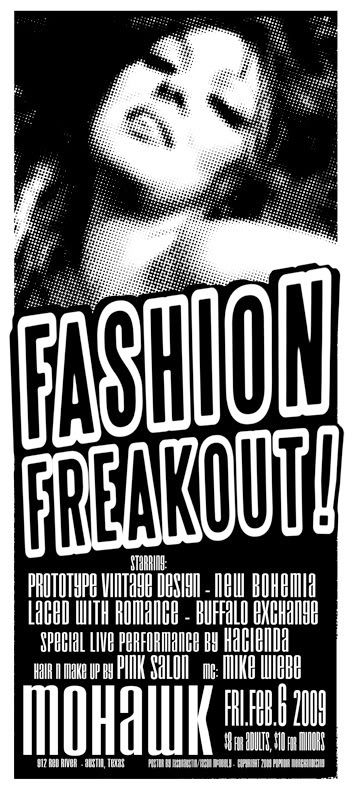 Fashion Freakout 2 is a rock and roll fashion show open to all ages. Prototype Vintage Design, New Bohemia, and Buffalo Exchange welcome brand, and Ebay entity, Laced With Romance to the runway. The Mohawk is the perfect venue for this show, as the multilevel terrace provides the perfect ambiance and set up for show of this stature. Prototype Vintage Design will set the scene with the stage and party décor fit for Rock and Roll royalty. Pink Salon provides the hairstylin' and Myka cosmetics brings the make-up magic for models set to get temperatures runnin' high.
The master of ceremonies will be Mike Weibe of The Riverboat Gamblers. DJ's Tweedy, Big Face and McNeely will be in the ones and twos spinning rock and roll sets for the attendees. Do not plan on being "fashionably late" for Fashion Freakout. Doors open at 8pm and the hotties hit the catwalk promptly at 9pm.
Tickets are $8 for adults, $10 for minors
For advance tickets, go to:
or