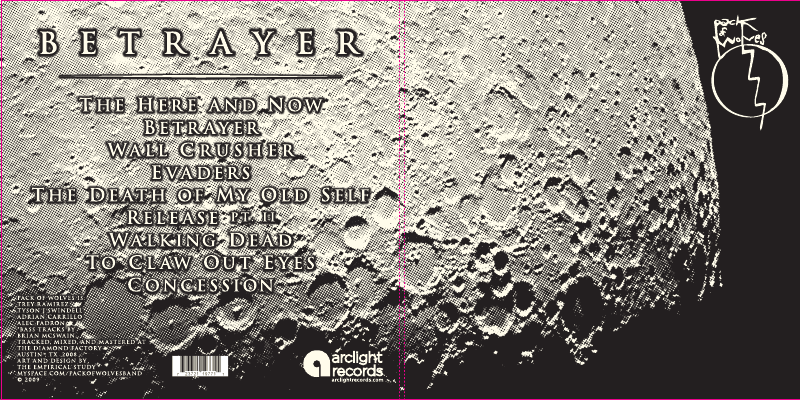 By Chuck Loesch, guest contributor
When was the last time you heard a record that really got your attention? By that I mean, you bought the album, read the lyrics, listened to it over and over, went to see the band and bought the t-shirt. It has been a little while since I have gotten behind anything to that extent, and on the local scene, there have been too many bands to name that I enjoy their music, but never felt like I had been knocked out of my skeptical vision of what I think metal should look like or sound like.
I am lucky enough to know members of the Pack of Wolves, and late one night on my way out of the Red 7, I was slipped a preview copy of their new album Betrayer. I didn't think too much of it right away, but then again I had a few drinks and can't be responsible for my irresponsibility. The next morning I dropped the CD into the car and had my ears blown back. Initially their intense sound is overwhelming, a little noisy for 7am, but I got a little closer, turned it up, and discovered dimensions that people write about. Not to sound too over dramatic, but I literally listened to the CD for a week straight and as a metal DJ, I just don't do that. I caught up with them at SXSW 2009, and had to actually buy a copy of the vinyl, and this is where I really wanted to go with this. Whether it was their idea or not, vinyl is brilliant, and for their integrated out front style of metal it is perfect. Ground breaking music in a classic format like vinyl makes the listener more engaged with the music, which is what this record really deserves.
Betrayer traverses a narrow trail of self-inflection coupled with a desire to speak louder than what the words represent. When you ask the question "Can you even fathom purity?" you may have a vision, but the visceral hallucination of Trey Ramirez' distorted screams pleads with the listener for an answer. Tackling inner demons, while soul searching for the truth of existence in every hazy chord contrasts sharply with the indulgent instrumentals on this album. An abrasive depth that places Pack of Wolves on the top tier of metal musicians, and I usually would not gush this much over a band from Austin. I foresee an extremely busy future for these veterans of the local scene, so check out the new record Betrayer and find out for yourself if I am biased for the right reasons.
–Chuck Loesch, No Control & 101X