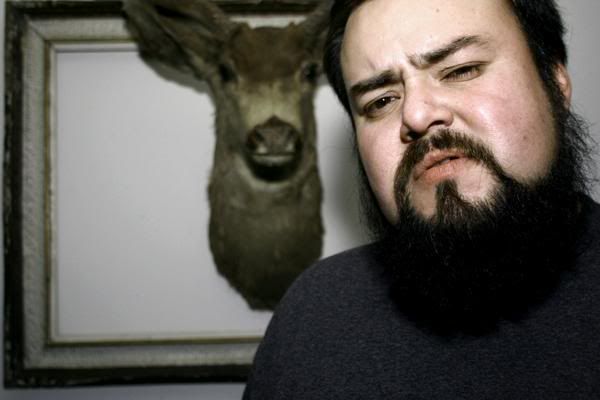 2Mex is one of the hardest-working rappers in the underground scene. With his earliest recordings released in the mid-1990s, 2Mex—also known as SunGodSun—has been sharing his words and wisdom with his solo projects and other groups for more than 15 years. His discography is impressive, as he's partnered up with hip hop groups such Visionaries, Afterlife, the Shapeshifters and Look Daggers.
Currently, 2Mex is signed to Sage Francis' Strange Famous Records where he is working on releasing a new album called My Fanbase Will Destroy You.
2Mex sat down with me before his set at Hella Broke, a skate-deck art/hip hop fusion showcase hosted at Red7. We discussed how he manages all his projects, what advice he gives inspiring rappers and why Homeland Security thought he might have been a terrorist.
2Mex photos provided via MySpace profile here.
Introduce yourself.
2Mex: My name is Alex. They call me 2Mex. I'm from Los Angeles.
How did you get involved with this show in Austin, Hella Broke?
2Mex: I think Sage reached out to me and asked me about coming out. I wanted to spend a week out in Texas, hanging out with some friends. So I think I just sent out a bulletin like "Yo, Texas, I want to be out there." When I'm on tour, I just send an email and be like "Uh, Arizona" and then somebody's like "Sure, want to play a house party?" or whatever.
That's cool. I was reading about you and you seem to have a lot of history. You've been doing this for quite a while with different kind of projects. How long have you've been doing hip hop?
2Mex: I've been rapping for like 17 years. You just blink and it goes by. We're always working on records. I haven't had a job in a decade. I've just been working on hip hop for a while now. So for me, I just click up and make different groups with my friends. I have a couple of different groups that are running right now.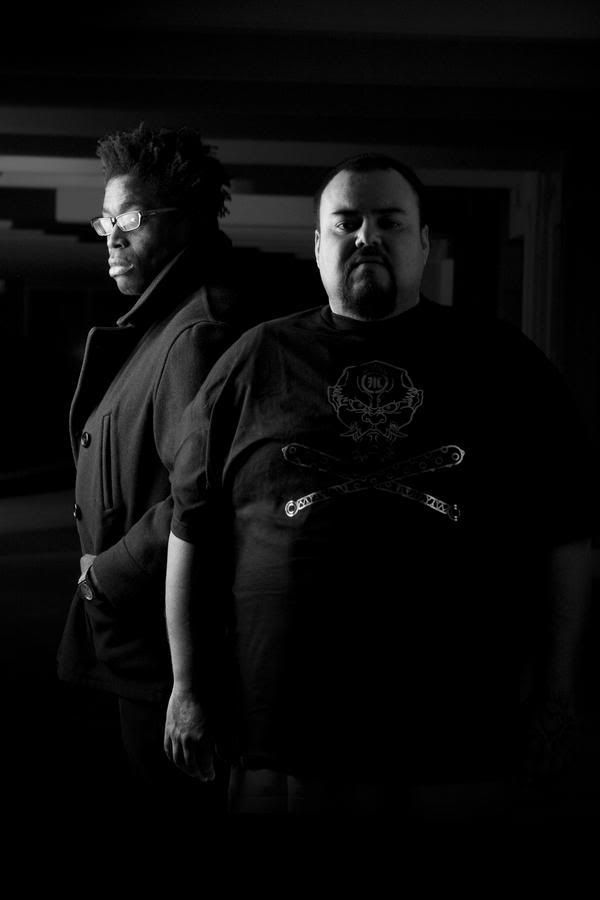 Ikey Owens and 2Mex as Look Daggers
How many groups are you currently working with?
 2Mex: Right now, for the most part I have a band called Look Daggers with my friend Ikey Owens. He's the keyboard player for The Mars Volta. It's a side group that we have. We made one record called Suffer in Style. Then I am just as myself as 2Mex and then I have another side group called The Returners with my homeboy Deeskee. He does the production and this other rapper named Die Young from the Shapeshifters. It's kind of a themed record. It's pretty cool.
How do you time-manage all these groups you record with, perform with and tour with?
2Mex: Not very well. There's no time. It's at the point now where you and some friends start talking and we're like yeah, we want to do some stuff—this and that. You look at your schedule loosely and you say alright, November. Since no one's really waiting for it because these are all new groups, you just work on it until it's done. When it's done, you either put it out or you just let it just exist. You know what I mean, just kind of like exist.
Go with the flow.
2Mex: Yeah, you put it out. Every now and then, some records you got to put them out because you feel like you want to put them out or you're funded. I've been getting funded by this label—by Grimm Image—so you want to put this stuff out.
Out of all the places you've toured, what's your favorite place to perform?
2Mex: Um, you know what? Austin is probably one of my favorite places. We've always had fun playing in Austin. Probably Austin comes #1 and then #2 I would say, I really like El Paso. Actually El Paso is really fresh. I like El Paso. I like Seattle a lot too. Seattle's really fresh.
Is it the crowd?
2Mex: Just the years of going over and over. Just started having friends there and there's like a little niche of people sometimes that support. It's like it's the kind of place where you like to get away. We play all the shows that get offered to us basically so a lot of times I'm like what am I doing here? Some were like damn, I'm really here for ten people or five people. Austin's the kind of place that is a cool vibe where you can actually play and have fun, you know?
Yeah. Austin loves music.
2Mex: Austin's a pro at it. So it's all good.
What kind of advice do you give to someone who's trying to break out in the hip hop scene?
2Mex: I think it's much harder these days for a new artist to break out. It's a whole different thing now because everybody raps. Everybody makes hip hop. Everybody makes music, which is a great thing, but it's so difficult to sprout out. Nowadays for the new artists, my advice would be to do it because you love it and try to take the equation of trying to make money out of it. Do it because you love it. My only other advice is, honestly, no matter who you're down with, no matter who your friends are, no matter who did what, nothing matters but what's on that CD. You got to put in hours into the studio or the hours that you graphed. I would say invest in yourself. When you get paid Friday, don't go buy shoes, go buy some equipment. Go make some fliers of your group. Go do shit for yourself. That's the only way it works out. You have to really invest in yourself and go and sprout out. That's my advice.
What else is coming up for you in the future that people should look out for?
2Mex: I basically signed to this label called Strange Famous, which is a Sage Francis record label. He's a cool dude. So we're putting out a record next year that we've been working on for two years. It's called My Fanbase Will Destroy You and it's really awesome, man. It's produced by Busdriver, and produced by Ikey. It's really fresh. It's a really good record.
The Returners music video
Tell me about the time the fed's thought your tour was a terrorist threat.
2Mex: Oh, yeah. Two years ago, we did this 47-cities tour called We Book Our Own Tour. We booked it on MySpace, like the whole 47 cities. It was really crazy and really tough. Somewhere basically on 9/11 of two years ago, I had a couple of days off and I went to St. Louis. We were in St. Louis and I told the guys, "Go forward. I'm gonna rest for two days." I had a friend come and visit. So basically I went to the airport to pick a friend up on 9/11. After the Detroit show, driving to the next city, we got pulled over by three different kinds of police: We got pulled over by Homeland Security, we got pulled over by the state cops and we got pulled over by the local police—all in the same shot. Long story short: Basically, the local cops were like "Who's Alex?" I was like, me. They're like, "Oh they've been following you for days." I don't know if it's my hipster Palestinian beard or whatever, but they were just following us. Once they found out that we were just rappers or whatever, they were pretty much like, oh. So I think that's my story. We must have straight-up fans or they're following us, because we see them all over, all over the United States all the times at our shows.
Wow, that's weird.
2Mex: Yeah, weird. I don't really say anything that bad, but it's all good.
Anything else you want to add?
2Mex: Yeah, just tell people that in this time where everything's free, just the one thing I want to tell musicians is that you need to come out and support these groups that are out here because if you don't, no one is going to ever buy your shit. So if you're sitting at home downloading everything under the sun, I'm going to see you in five years when you put your record out there that you've been working on for forever. Everything you and your homies worked for gets jacked, so I'm just giving them a precursor because no one's going to support you if you create the trend at a young age that you're not going to support the arts. Then no one's going to support your art.
[][][]