It's a sunny, balmy afternoon and Alejandro Escovedo and I are sitting at Joe's Coffee. We talk about his 2008's album, Real Animal. The album is his ninth solo effort.
San Antonio born, Southern California raised, Escovedo comes from a family of musicians beginning with his Mariachi performing father Pedro, percussionist brothers Pete and Coke, younger brothers and rock musicians Javier and Mario and 80s/early 90s pop musician Sheila E.
Despite such a musical family tree, Escovedo has been playing music his way for years, his sound evolving from early punk bands like The Nuns, Rank and File and The True Believers. He's an Austin staple in the music scene, playing regularly at The Continental Club and closing out SXSW pretty much every year.
Among the hustle of South Congress, he tells me he doesn't mind the comparisons to Bruce Springsteen because, hey, it's been exposing his music to a whole new audience.
What is it about Austin that you love so much? You have lived in so many other great cities all over the country but you choose to live here.
I love it here. When I was kid, remember I was born in San Antonio, we used to come to Austin because I had a cousin who went to UT. We used to take the train. My mom would also come here to buy records.
Around what time period was this?
This is during the early fifties. At that time I knew little of Austin. Then around '57 or '58, we moved to California. My parents told us we were going on a vacation to California, but we never came back. (Laughing) It was like a 50 year vacation.
When did you come back and why?
After ending up in New York City after all those bands and everything, it was around 1978 that I started a band called Rank and File. We booked this tour where we played seven dates in seven weeks. During this tour we would stay at people's houses. Austin was one of the places we came because we had a friend here named Lester Banks, who was a famous rock journalist here. We came and played a gig at Raul's and I just fell in love with the place.
What did you fall in love with specifically?
I fell in love with the people. The people were really warm here. There were all these great song writers living here. I loved Barton Spring Springs and the great Mexican food. Not to mention the weather was warm. It was these things and more that make Austin so great. Once we got back to New York from the tour, we immediately decided to move to Austin because we wanted to be kind of a country band.
So why country? I mean, reading about you and your early musical influences, I see names like the Stooges and other early punk rock bands.
It's funny you ask. Growing up I listened to that music religiously. Coming here to Austin brought me face to face with so many songwriters. I had not actually written a song until I broke up with Rank and File which was around 1982 or 1983. After I left Rank and File, I called my brother Javier up and told him it was time to start that band we always wanted to have.
What kind of band exactly? Another country band or something different?
We wanted to play all the T-Rex songs and other stuff that we loved. The first song I wrote was called "Rain Won't Help You When It's Over." It was very much in the kind of Dylan, kind of jangly song writer kind of sound. When I started writing, everything came out was like ballads.
Why was everything coming out that way?
I was older when I finally started wring songs. I was 30 something years old. My perspective wasn't so much that teenage perspective anymore. At that point I had children, been divorced, and traveled a lot. It just became more introspective. I think that's what dominated my first few albums.
Having listened to your music, everything seems to me as if it is all autobiographical in some sense.
Sure. Every song I have ever written has had some of that in it. Even the song, "Castanets," is about an incident that actually happened.
So you don't write a song to make hits because you think it will sound good or that it would sell records?
I never write about anything I haven't experienced. I don't write songs every day. I write songs when I'm inspired to write songs. I think I always have to have a context about the album. For example, the first album was about a tragedy in my life. All the songs were about the demise of this whole, one relationship.
What about after the first album?
The next couple of albums dealt with trying to survive that whole experience. Then I started to write a little more about my family, specifically my father. My father was a great storyteller.
Talk to me more about your family if you would, specifically your Latino upbringing. You're one of 12 kids and born In San Antonio. That's very relatable to me and lots of our readers, as many of us have family in San Antonio. Were you also West Siders?
Oh yeah, we were West Siders too. I told this story before but I love telling it. My father was born in Mexico, specifically Satillo, Coahuila. He came north when he was 12. He was looking for his parents. He left on his own with a 16 year old cousin and found them in Luling, Texas picking water melons.
So after finding his family, did they continue to work and live together?
He found that my grandfather was very abusive, so he ran away again and went west at age 16. That began his journey. It was like a Steinbeck novel or something. He did so many things in his life. He was a singer…
What kind of music or what kind of singer?
He was a mariachi singer in the 1930s. He was a prize fighter during the depression. He played semi pro baseball. He was a great horseman, a great pool hustler, an overall character.
Sounds like he is your hero and really inspires you.
He was always a great hero of mine. I think I'm most like my father more than anyone else in my family.
Are you all musicians? I know you and your brother Javier are.
Eight of us became professional musicians out of twelve kids. There's Javier, Mario, Coke,Pete, Philip, Bobby and my brother Manuel. Sheila E is my niece as you may know.
How come you guys didn't just form your own band, like the "Escovedo 8" or something? I bet that would have been a good band.
You know it's funny because my older brothers were all Latin musicians. The younger sect is all rockers. We didn't pick up the drumsticks, we picked up the guitar. Rock and roll was everything to me.
Was there such a thing as the "Escovedo compound" where you all lived and played music?
Actually, no because there were two different women involved. We all would get together at times and live together even, but not all the time. Half lived in the East Bay a lot. It wasn't until I wrote my play, By The Hand of the Father, that my brother Pete played with me. Sheila played with me too at that time.
Will you record together at some point? Any plans for that?
We just did a song that's on my brother Pete's album that is every Escovedo that plays music, like 50 of us. It's incredible, just this epic song. I sing a verse, there are rappers and my distant nephew who is a heavy metal kid even played on it. It's a long song and they even did a video of it. Hopefully by the summer it will be out.
You and Pete have played together on a record previously? That wasn't the first time?
The first time they played on an album with me was on an album called With These Hands on the title track. It was about my father crossing the border and living on the border.
Why did it take so long for you to play with your family with all that talent among you?
It was really my insecurity. We grew up as punk rockers and didn't really know how to play. I mean, I did not know a thing. I was making a movie about the worst band in the world. Since we couldn't play we were that band. To me, my brothers were on such a pedestal. The thought of playing with my brothers was very distant. They were supportive, but I would just shy away from it.
That's crazy to hear that now. I almost don't believe you.
I used to turn my back to the crowd when I played. I just faced my amp and played.
I was wondering how the success of Real Animal has changed your life. Last year alone after it was released, you did everything from Letterman to playing alongside Bruce Springsteen in Houston.
It was a very wild ride. You have to understand that making the album was a really arduous process. I started writing the songs about a year and a half before we made the record. Then I realized that the songs weren't getting where I wanted them to be.
How'd you get back on track?
I started touring with Chuck Profit, doing solo gigs together. I told him about my idea for this record and asked him if he'd be interested in helping. I knew he was going to be in Austin since he was producing Kelly Willis. He came out to Wimberley where I live and we wrote the last song on Real Animal called "Slow Down." I needed someone to help me and inspire me to get this together like a movie. We took the storyboard approach. Out of our conversations, we'd start kind of sculpting little pieces of what Real Animal was to become.
How long did it take for the record to come out once it was all written?
Well, we went to France to work with a producer named Glen Johns, who produced The Beatles and The Rolling Stones. He said we didn't have songs. The record company felt we didn't have songs. Funny thing is all these songs ended up on the record eventually. We went through about a year of back and forth. They didn't want to make the record or put a lot on money into the record because they didn't like the songs. After we decided we weren't going to use Glen we got Tony Visconti, and Tony was the guy who really brought all this together. To finally have this record and year like I had last year, it was just so rewarding.
No changes were made to the record from your original plan or vision? You made it the way you wanted to make it?
It was more than what we wanted. We knew we wanted to work with a producer from the seventies, and we wanted that sound. We wanted it to be a story with a beginning and ending. Tony brought that all out. So, all of this that's happened in the past year has been wonderful because it was a verification of everything we believed in.
Was it a verification of all your years of hard work or just the completion of Real Animal?
It was just the process of completing the album but also for all those years. It was nice to finally get introduced by Bruce Springsteen as a great songwriter who would make great albums in the past. To be introduced to those 18,000 people alone changed my life the next day. All of a sudden I had a different life.
Different how exactly?
The notoriety but also there was a new interest in the past catalog. The gigs were better. We're playing Bonaroo this year. All of that is a result of Real Animal and John Landau management.
That's interesting that it took this long because you have always received great reviews for all of your albums. Did you ever stop and wonder where this new audience was before?
I don't like to think those things. I don't want to expect anything. I like to live life without directions and just find my way. I like the openness of the unexpected.
So what else is coming up for you in 2009 besides Bonaroo?
I know that the year is pretty much planned out. I am going to be doing a lot of festivals. It's funny because when you make a record that gets notoriety like Real Animal, it doesn't happen overnight. It builds long term. Next year I hope to record another album. I don't want this little wave to suddenly break.
I know you produce also. Are you working on anyone's albums now or this year?
I am producing an album for Amy Cook, a songwriter here in Austin. I think she's wonderful but then I am doing a lot of touring again.
Are you the headliner on these tours?
Yeah but they're small tours. I'm still working my way up.
I saw a lot of cities and a lot of dates scheduled.
Yeah there's no shortage of dates. I could probably never record another album again and still tour.
Going back to these cities after Real Animal came out, you had to of had a different response or turnout than before?
Meeting you is an example of that difference. I realize now that the cross section is anything from 70 year olds to 20 year olds, sometimes teenagers. My audience was typically older guys, around 35 or older. It was guys who bought records. We'd get some younger people I'd get was due to the fact that I was in punk bands. Maybe I was like a historical piece of some kind, I don't know.
I think they were waiting for a Stooges cover or one song from The True Believers.
(Laughs) They were slumming it basically. Now, you get new people who are very interested. They want their record signed. They have the whole catalog. Now everything of mine is on their Ipod.
You ever get tired of all the Springsteen comparisons? That's all I ever read online. Friends would ask me what you sound like or to describe your sound, and the Springsteen reference always comes up.
It doesn't bother me. I got to tell you first of all, I am not a Springsteen collector really. I respect him very much. I had some of his records, but not a lot of his records. Then I saw that show in Houston, which was my first Springsteen concert I'd ever seen. It was really amazing. Now of course, I'm the poor man's Springsteen or Springsteen junior.
That always turned me away, to be honest. I would have paid attention earlier if I read more of "he's an old punk rocker" or "sounds like the Stooges." I would have slummed it with those other guys you mentioned earlier.
Yeah, but do young kids want to hear me do ballads like "Rosa Lee"? I don't think they really want to hear it. I don't think their romantic experience is developed at that point.
Yes and no. Young people will listen to ballads but they have to be soulful or have some edge to it.
I think if you read between the lines you'll find that a lot of my songs have a bitter taste to them.
What I see when looking through the CD booklets at the lyrics are other artist references. I see some David Bowie in there. Your influences come out.
People who know can pick that up. People are asking now what kind of record are you going to make next. They ask if it is going to be another rock record, and I think it will be. I just want it to be songs though, as opposed to something autobiographical.
It sounds like the next record is going to be louder and more of a fun record.
Oh yeah. I grew up playing electric guitar. I always loved rock and roll. The louder the better. With the Stooges, it was like you paid money to sit inside a hurricane. I just want to have fun and enjoy the high of last year and enjoy the festivals.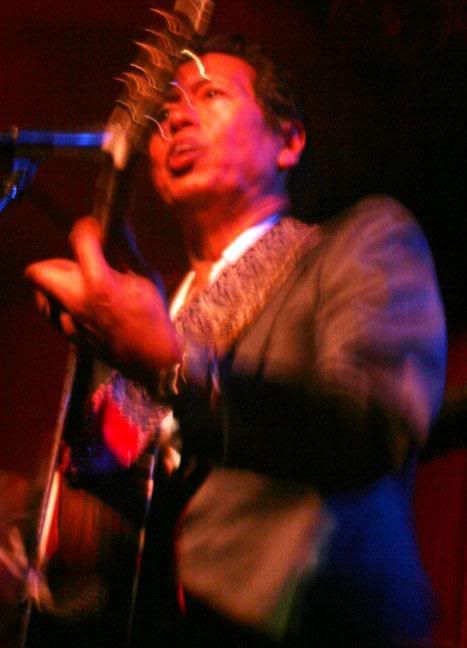 Photo by Mari Hernandez
Speaking of festivals, last year was your first ACL. How does it compare to your smaller, more intimate settings you are used to playing?
The festivals are different because it is about you. You go, you get your slot, and you're not opening for someone. The crowd is large, or not, but still a lot of people. I really love the intimacy of the crowds like in Continental Club. Stuff like that is where I'm as happy as can be. I just love it. I can't get away from it. That's rock and roll to me.
So if the buzz or wave of Real Animal ever fizzled away, you'd be okay with just the small clubs?
I get paid to play music for a living, and that's all I want to do. I have been doing it for around 33 or 34 years now. Not many people can say that.
In regards to your music, how come you never recorded any songs in Spanish?
First of all, my Spanish is very poor. I don't want to do it until I can do it well. I know it s something I have to do.
You have to do it? Why do you say that?
I have to do it. I put the pressure on myself to do it. I feel like I owe it myself, my father and my family. I want to do it. My brothers don't speak much Spanish but they sing in Spanish.
So this Spanish track will be about your family I assume?
I want to do a whole album in Spanish, not just a song. I do want it to be a rock record, not just a folklorico record.
Who do you listen to in terms of Latin music?
I really like Café Tacuba. The gig that pains me that I missed was with Kinky in New York. I thought it was a good way to connect with some bands from Mexico and other countries. Café Tacuba is my favorite because they are so experimental. They just have their perspective.
What about punk rock? I know you grew up listening to the Stooges and other old school bands?
I love bands like the Riverboat Gamblers. There is also this really cool band from Detroit called The Satin Peaches.
Where do you hear about these bands?
Other people turn me on to different bands. I'm pretty busy and I don't get to sit around and listen to music as much as I used to. I hear through friends mainly. I used to love At The Drive In. When I saw them, I thought I haven't seen a band this good since I used to see the Stooges play.
You have great taste in music. Doesn't it break your heart that they aren't together anymore? I mean The Mars Volta is great but it is not At The Drive In.

I know. It's funny with bands because I don't know what happens but you just have to keep a good thing together. You just don't mess with things like that. It's a gift of God when you can play music like that. I mean, what's the chance of five or six people having the same mind set to play that incredible music. They had "it" and I think they were crazy for not running with it.
How come you never made any music videos? I don't mean the live stuff you'll find on You Tube, but an actual music video you'd see on Fuse or the old MTV?
I hate videos. I don't like the medium that much. I prefer film making too much to want to make videos.
I thought I was going to get one of those answers some musicians give about how MTV ruined everything or something along those lines.
Well MTV ruined it for everybody.
I disagree. I think it is generational difference. When I was younger, MTV is where a lot of my musical taste developed. Of course I no longer watch MTV, but that's another story in itself.
Let's talk about that more. To me, growing up in the 1950s you grew up listening to rock and roll on the radio late at night in your room was the best experience. Everything was about listening. It was about letting your imagination take you wherever. So here comes MTV, and I don't want to watch Sting act out a movie. I didn't want to watch Squeeze act out a movie. I didn't even like most of those bands on MTV anyway. I mean, you never saw The Stooges on there.
You're right about that. What I say to that is someone like myself, in their late twenties or early thirties, would not have gotten wind of artists like …Tom Petty. Even though the effects were bad or the videos were just really cheesy, we could see or hear past all that to grasp that the music was good. It also introduced us to a lot of the British stuff because they were the ones making videos at that time. I can't say I would have been exposed to that had it not been for MTV. When music was the focus of MTV, it was revolutionary and cool. Had I seen a music video from you or whatever band you were in at the time, I might have dug it and bought your music a long time ago. In that sense, you missed an opportunity to make a lot of money off my friends and I. I bet we would have bought your records.
That's definitely an interesting point. I think you would have loved the True Believers. It is funny because once MTV came out, people wouldn't ask us if we had an album out. They'd ask if we had a video.
That I can see as the downside to MTV.
So then if we didn't have a video, we didn't exist. Rank and File made a video and it was horrible. I hated it. It was just bad. We did all the clichés, you know the clock being broken, etc. All the bad clichés were thrown in that video.
You should leak that online. I think people will get a kick out of it and at this point in your career, people will forgive you for the clichés.
You know, I'm barely in it. I don't know why I even care. But you don't know how embarrassing it is. We had cowboy hats on and everything. Even I get embarrassed by some of The Nuns stuff. We were just these horrible miscreants with guitars who did kind of The Stooges thing. Iggy Pop once said The Nuns were the love child of Lou Reed and The Stooges.
So what artist do you see now that kind of reminds you of a younger Alejandro Escovedo?
I'd have to say David Garza. I was never as talented as he is, but I always have a great interest in David. I'm proud of him. He is a very interesting to me. He just does what he wants to do. He's amazing.
I couldn't agree with you more. David Garza is very cool indeed. Finally, tell us about South By Southwest (SXSW) for you since that is coming up here soon.
I've played like every SXSW except for like maybe two or three. I close it every year. My Sunday night show is one of the closing shows. We throw it at The Continental Club. We used to throw it at La Zona Rosa for many years. This year I hope to have horns and strings, like when I used to have my orchestra. I also have a party at Maria's taco Express on Saturday.

Is it the same great experience you've always known and loved?
Everyone loves SXSW and hates it. The first thing to come out of their mouth is that they hate it. My thing is I love it because I get to see my friends from all over the place. I get to see bands that I'd never get to see otherwise because I am always on the road. That I love.