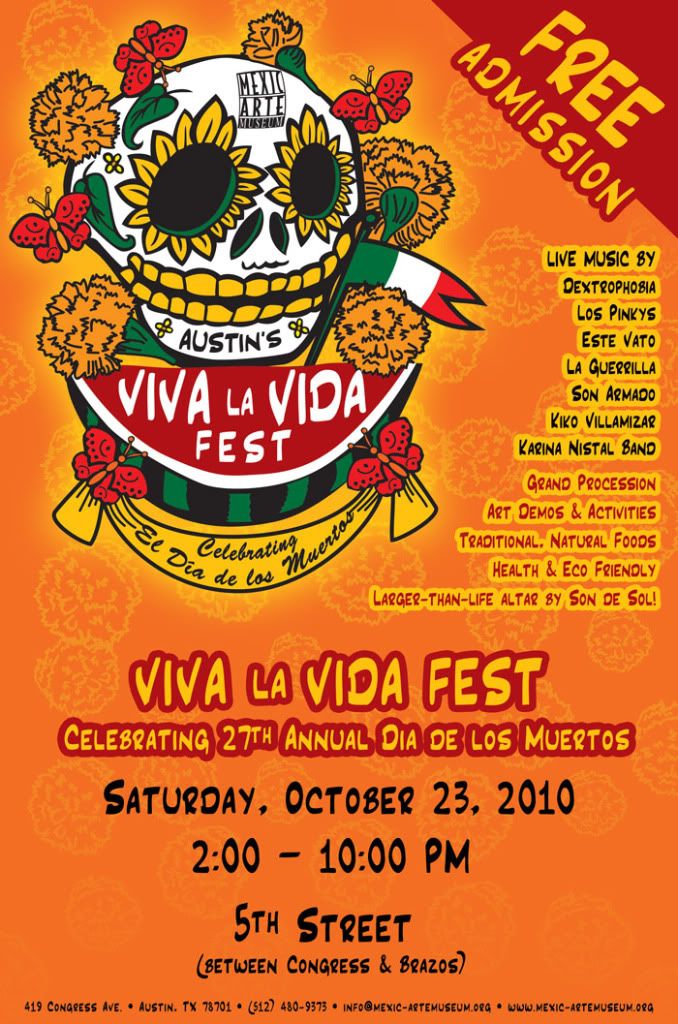 Celebrate Dia de los Muertos with Mexic-Arte Museum and their Viva la Vida Fest this Saturday. The theme of the 27th annual festival will be the bicentennial of Mexican independence and the centennial of the revolution. Everyone is encouraged to come dressed as Pancho Villa, Emiliano Zapata, Miguel Hidalgo, Adelitas or their favorite historic political figure from Mexico.
The festival is Austin's largest and longest-running Day of the Dead festival featuring Latino artists and entertainment, educational art activities and a grand procession in the heart of downtown.
Pre-procession activities, including urban chalk art demos, hands-on activities, and live conjunto music by Johnny Degollado, will take place from noon to 4 p.m. at Plaza Saltillo. The procession starts gathering at 5 p.m. and will leave Plaza Saltillo at 6.
The procession should arrive at the Mexic-Arte Museum on 5th and Congress at 7, where there will be a costume contest and a street celebration. A larger-than-life altar, a piece entitled "Ofrenda Rasquache", will be constructed by Son de Sol, a collaborative effort by Queer Sol Artist Collective and Son Armado.
The main stage at 5th and Congress will have live music from 2 to 10. The free event is ecologically-conscious, healthy, and family-friendly.
Main stage schedule:
2 – 2:45 Dextrophobia – San Antonio indie rock band
3 – 3:45 Los Pinkys – Traditional Texas-style, conjunto music from Austin
4 – 4:45 Este Vato – Six-piece Latin fusion band from Austin
5 – 5:45 La Guerrilla – Austin's international explosive pop band
6 – 6:45 Son Armado – Grassroots son Jarocho band from Austin
7 – 7:30 Folklorico dance performances
7 – 8:00 Costume contest
8 – 8:45 Kiko Villamizar – Afro-Colombian cumbia mixed with salsa and roots reggae sounds from Austin
9 – 10:00 Karina Nistal Band – Houston-based band that blends hip-hop, soul, and dance