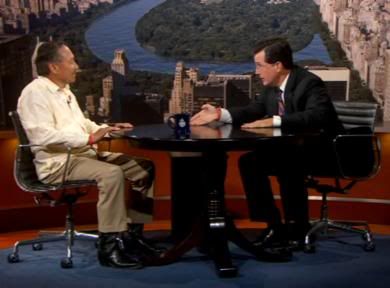 Arturo Rodriguez, president of United Farm Workers, appeared last night on Comedy Central's hit news-spoof show The Colbert Report to launch a new UFW campaign called Take Our Jobs.
The campaign is a somewhat tongue-in-cheek challenge to American citizens to work in fields and pick produce. The presumption being that Americans won't do it, because only immigrants are willing to work in the fields. That's a debatable point, but we guess that's the whole point of the Take Our Jobs campaign—to foster debate.
Stephen Colbert took Rodriguez up on this challenge, so we can probably look forward to a skit in the following weeks involving Colbert out in the fields.