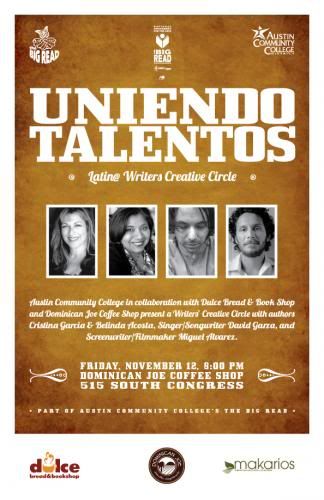 Experience an intellectual jam session with singer/songwriter David Garza, filmmaker Miguel Alvarez and authors Cristina Garcia and Belinda Acosta at Uniendo Talentos. The events is part of Austin Community College's The Big Read, a program of the National Endowment for the Arts designed to restore reading to the center of American culture.
This year's Big Read theme is "silent heroes," which will be the point of departure for the discussion among the group of writers, giving each an opportunity to feature this theme within their creative process and masterworks. The audience will enjoy experiencing the commonalities and complexities of these artistic disciplines in creative writing.
Dulce Book Shop will be selling the writers' books and music on site, while Dominican Joe will offer food and drink, with 20 percent of the proceeds going toward Makarios, a non-profit dedicated to helping pull families out of poverty by providing their kids with a quality education in the Dominican Republic.
The Writers Creative Circle takes place from 8 to 10 p.m. on Friday, Nov. 12 at the Dominican Joe Coffeeshop at 515 S. Congress.