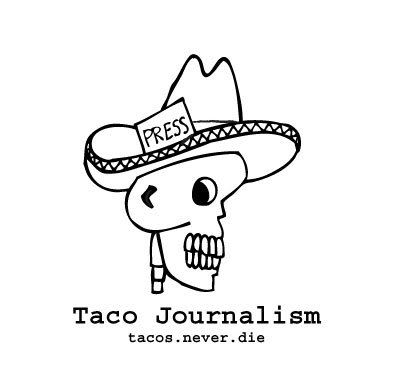 Taco Journalism seeks only one thing: to find the best tacos in Austin.
A blog dedicated to reviewing taco eateries throughout the city and different parts of the country, Taco Journalism has been chronicling this epic quest since 2006. The blog and its taco reviews have garnered attention not just locally, but most recently from major outlets like The New York Times.
We sat down for tacos with members of the blog last year in this video. Now, the taco journalists have an iPhone app to help you find the best-rated tacos in town, as well as taco spots near your neighborhood. You can get the iTacos app here.
"We use a lot of social media like Facebook and Twitter, so we thought it would make sense if we got an app," said Armando Rayo of Taco Journalism. "We've had more than a thousand downloads of the app."
The group of taco-reviewing bloggers is composed of Rayo, Jarod Neece, Justin Bankston and Gordon Murphy, who go by their alter egos El Mundo de Mando, Jarod, Cornbiter Deluxe and The Commish, respectively. Alexandra Landeros, known as Undercover Mexican Girl, is the most recent addition to the Taco Journalism family.
Rayo, the unofficial spokesman for Taco Journalism, recently sat down with Austin Vida for some aguas frescas and a few plates of tacos at El Taquito on the East Side. Rayo, who is the vice president of engagement at Cultural Strategies, says his moonlighting gig as a taco journalist started thanks to friend and former Austinist Food Editor Sam Armstrong.
"One day Sam asked me to send him my top five taco places in town," Rayo said. "I wrote it up in my own way and told him why I thought they were good. His article ended up getting a lot of traffic."
Taco Journalism was born. Though Armstrong is no longer affiliated with the site, Rayo, who grew up in El Paso, took over along with his taco-loving cohorts. Rayo's passion for the Mexican dish shines through his posts which are flavored with his mix of Spanglish and careful attention to salsa heat and tortillas.
"In our writeups and reviews, we take everything into account—the feel of the place, customer service and of course the tacos," he said. "We have fun with it though. It's a hobby for us. We don't make money of it."
And that's what makes Taco Journalism unique. They're not afraid to say when a taco eatery is not so amazing.
"If we give a place a negative review, they tend to invite us back and we try to keep an open mind," Rayo said. "We know some places have off-days and we try to be fair. However, we won't change a review."
Rayo says everyone at Taco Journalism has a different perspective on what makes a good taco. Readers often suggest new places for them to review and are also the first to comment when they agree or disagree with the bloggers' evaluations. Regardless of opinion, Rayo said the best part about the blog is being able to interact with readers.
"We've done East Austin taco bike tours and we even had a taco tweet-up during SXSW this year," Rayo said. "It's about connecting with fans online and offline."