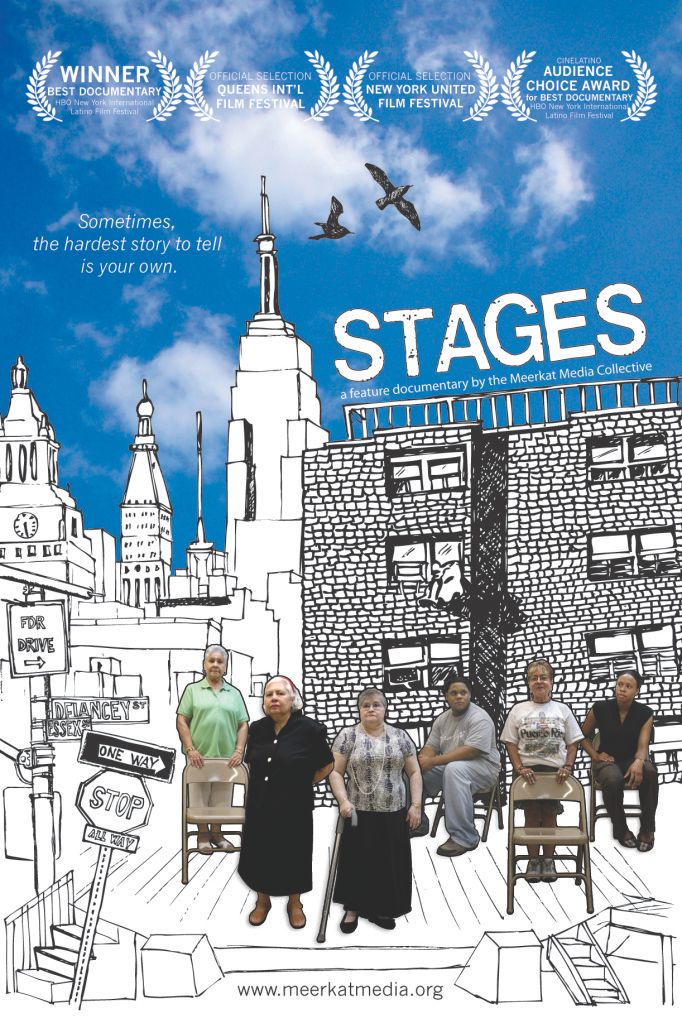 Stages is yet another of the many wonderful feature documentaries we'd like to spotlight for this year's Cine Las Americas International Film Festival. In New York City's Lower East Side, a group of older Puerto Rican women and inner-city youth came together over 20 weeks to create an original play out of the stories of their lives. Participants diverse in age, race and nationality confront stereotypes and examine their own histories, exploring themes of immigration, relationships, growing older and coming of age. With their lives intertwined, their stories take on new meaning, first as they are spoken across generations, and later when they are performed for a sold-out show. Stages offers an intimate portrait of an unlikely ensemble, transformed by the liberating power of their own stories.
Collaboratively directed by 12 people, Stages is the Meerkat Media Collective's first feature-length film. Austin-based filmmaker Sally Bergom is one of the 12 directors involved. There will be two opportunities for you to watch the film during the festival. The first screening is Sunday, April 24 at 7 p.m. The second will be on Wednesday, April 28 at 5 p.m. at the Mexican American Cultural Center. The MACC is located at 600 River Street.
Check out the official trailer for Stages here and links to more information below.
STAGES – Feature Documentary Trailer from meerkatmedia.org on Vimeo.
For more information on the Cine Las Americas International Fiilm Festival, visit www.cinelasamericas.org
For more inforamtion on Stages, visit the official website at http://www.stagesmovie.com/