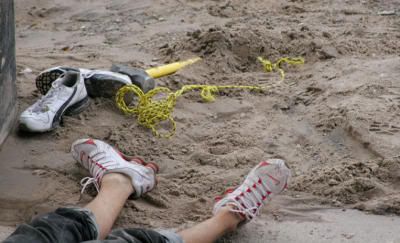 Two videos captured on cell phones have arisen that show both of the recent controversial incidents featuring Border Patrol agents using lethal force. Last week, Border Patrol agents in California Tasered and beat 32-year-old Anastasio Hernandez Rojas until he stopped breathing and died. Earlier this week, a border agent in El Paso shot 14-year-old Sergio Hernandez Güereca in the head in response to being pelted with rocks. Both videos are graphic, so fair warning.
In this first video, a bystander on the other side of a fence captures grainy footage. Hernandez Rojas' screams are audible, with cries of "Por favor!" as a woman nearby shouts "Leave him alone" in Spanish. Hernandez Rojas had lived in the U.S. since he was 14 and leaves behind five children (all American citizens) in San Diego. He had methamphetamine in his system at the time, which could have played a role in his death. In the video, a bystander asks other officers, "Why are they using excessive force?"
This second video, from an Univision report, shows the El Paso incident. Teens fleeing from Border Patrol custody respond by throwing rocks, at which point an agent fires multiple shots at the boys.
The Border Patrol's union issued a statement about the fatal shooting, taking the side of the agent. The union says that rocks are lethal weapons and responding with gunfire was appropriate. Read the entire press release below:
El Paso, TX – June 9, 2010 – Since biblical times, rocks have been used as a crude but effective weapon to injure and kill humans. On June 8, 2010, when Border Patrol Agents were assaulted at the U.S./Mexico border by several individuals armed with rocks, they were forced to defend themselves and their fellow agents.
Border Patrol Agents are not trained, nor paid to withstand violent assaults without the ability to defend themselves. Rocks are weapons and constitute deadly force. If an agent is confronted with deadly force they will respond in kind. No agent wants to have to shoot another human being, but when an agent is assaulted and fears for his life then his hand is forced.
The government of Mexico has done their usual grandstanding where they hurled baseless accusations at the Border Patrol agents, made claims of racism, and portrayed the deceased criminal as an innocent boy who had never done a thing wrong in his life. None of these statements have any merit. Mexico bears quite a bit of responsibility whenever one of its citizens dies along the border due to its allowing criminal organizations free-reign and its refusal to police its northern border.
While the loss of this teenager's life is regrettable, it is due solely to his decision to pick up a rock and assault a United States Border Patrol Agent.We stand behind the actions of the agents who did their duty in El Paso, and are confident that the investigation into his incident will justify their actions.