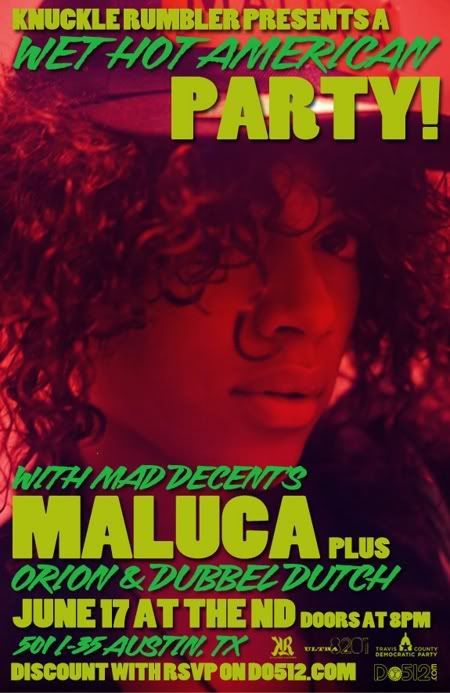 The fabulous Dominicana by way of New York City and Mad Decent recording artist, Maluca, returns to Austin on June 17 to perform at The ND at 501 Studios. After tearing it up at SXSW this year, Maluca returns to perform at Knuckle Rumbler's "Wet Hot American Party." According to our editor in chief, "Maluca's music is a sofrito of Latin, house, funk, drum and bass, reggaeton and R&B." While Maluca's video for her hit single "El Tigeraso" is now getting airplay on Latino music networks MTV Tr3?s and Mun2, it's only a matter of time before non-Latino audiences start getting down with Maluca.
DJ Orion of the Peligrosa All-Stars will be on hand spinning for your listening pleasure. Admission is $10 but if you RSVP with our friends at Do512 HERE, you can get in for $7. 18+ are welcome. ND at 501 Studios is located at 501 IH-35. Look for the entrance on 5th Street and Brushy Street.
This party is sponsored by the Texas Democratic Party who will be on hand to help people register to vote. Finally, there will be a FREE Shoe give away of Greedy Genius Shoes to pre-sale ticket buyers. Click HERE to enter.
For those of you not yet familiar with Maluca, check out here music video for single, "El Tigersaso."
Maluca – "El Tigeraso" from Lazlo on Vimeo.
Like what you heard? To learn more about Maluca, check out the Maluca interview our Editor In Chief did for our sister site, Red River Noise here: Q&A Interview: Maluca