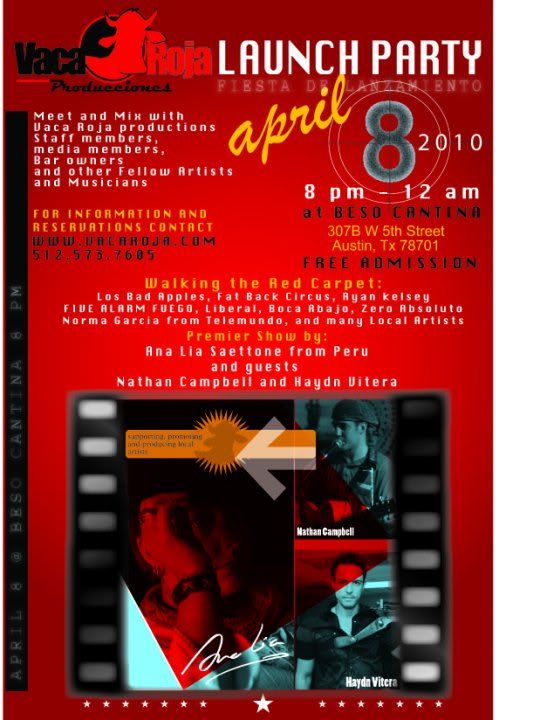 If you haven't heard of Vacaroja Producciones, chances are you'll be hearing the name more in the coming months.
The company will be producing and promoting live events such as concerts, plays, movies and other entertainment in Austin. A Latino-owned company, the idea is to create and promote not only events for the Latino community but to bring the Latino events into the Anglo market and viceversa.
Vacaroja is owned and managed by Chuy Velasquez and Alejandro "Alex" Pedemonte. A native of Peru, Pedemonte has a background in acting, and he has directed and performed in many Spanish plays in town with the Proyecto Teatro theater company. Pedemonte was also one of the first restaurant owners of authentic Peruvian cuisine in town.
Tonight, April 8, Vacaroja is hosting a launch party and meet-and-greet at Beso Cantina. Austin Vida contributor Anny Ibarra asked Pedemonte a couple of questions about the company and the party.
What is the intention of Vacaroja Producciones?
Pedemonte: The intention is to make live productions and to present those at a very high level of entertainment. Since Austin is the music capital of the world we want to bring quality productions into town. We have high expectations and we hope that the audience will notice a change in the shows we presents and promote.
What are your plans for the launch party? What can we expect?
Pedemonte: We are inviting all the different artist in town who would like to attend to our launching party. We also want to introduce to the community our sponsors. We invite the community to attend. Atists can arrive any way they want. We will be recording the event and will have a red carpet; some artist will arrive in limousines, bikes, or pedicabs…anyway they want! Ana Lia will be performing
For those interested in participating in this event contact [email protected] or visit www.vacaroja.com.