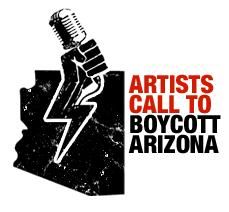 Looks like fans of Latin alternative and Latin pop music in Arizona are out of luck. Rage Against The Machine frontman Zach de la Rocha recently created a petition for musicians to boycott Arizona as a result of SB 1070, the controversial immigration law. Thus far, the Sound Strike petition has been signed by Café Tacuba, Juanes, Calle 13, Ozomatli, Cypress Hill, Los Tigres del Norte and others.
We don't like this law or agree with the spirit behind it either, but we also don't know how effective this kind of boycott will be. It would be one thing if Carrie Underwood or Toby Keith or some other "musician" beloved by Republicans were to boycott Arizona, but the only people hurt by a Latino music boycott are the Latino music fans. You think Gov. Jan "I'll sign racists laws all day if it means re-election" Brewer and her belligerent constituents give a damn about Latino music boycotts? We'll bet you a large #1 combo from Whataburger that no one in the Arizona legislature has ever heard of the amazing Cafeta or Ozo. Oh, well. Maybe skipping Arizona on tour stops means a better chance of getting them in Austin!
Read the Sound Strike petition: click here. Let us know what you think about this boycott effort on our Facebook fan page.