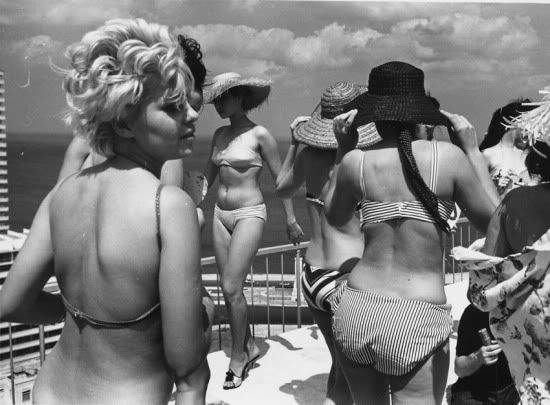 Cine Las Americas announced two screenings of the controversial '60s classic, I Am Cuba (Soy Cuba). Directed by Russian director Mikhail Kalatozov in 1964, the film was released just one week after the historic Cuban missile crisis. It was designed to be an anti-Batista, pro-Fidel Castro propaganda film. The four dramatic plots take place in the last days of Batista's regime; the first two expalin the conditions that led to the revolution while third and fourth show the two different worlds of social and economic classes in the country. Images of rich white Americans and women in bikinis drinking poolside at what appear to be Club Med-style casinos are interwoven with scenes of Cuban ghettos filled with starving native children and sickly, angry elderly. The film was not releasable in the U.S. until 1995 when directors Martin Scorsese and Franics Ford Copolla campaigned to restore I Am Cuba.
The film is in black and white, restored 35mm print. The movie is in Spanish with English subtitles. The two Austin screenings will take at the Alamo Drafthouse Ritz on 6th Street. The first screening will be Sunday, June 6, at 1 p.m. Advanced tickets can be purchased here.The second screening will be Tuesday, June 8, at 7:15 p.m. Advance tickets for the Tuesday screening can be purchased here.
Check out the trailer for I Am Cuba below.
Helpful links: I Am Cuba on Wikipedia, Alamo Draft House listing