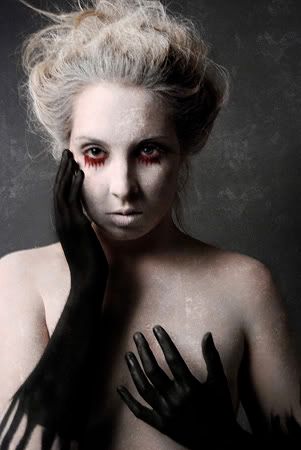 Taking residence on the walls of La Peña is a motley crew of artists. Thirteen in all, the photographers in the Fotografica collection—the newest exhibit at the Congress Avenue arts organization—range in age from the teens to 50s. Styles and techniques are just as varied. Though symbiotic at first glance, the exhibition proved to be much more communal, despite the assortment of artists featured. I overheard artists examining each other's work, comparing their techniques and mediums. As if I'd walked into a family reunion, some artists even embraced each other with hugs.
I spoke with Fernando Flores—an Austinite whose works were featured at last year's event—about his works "Chantal Sunset" and "Yellow Taxi Rain," two portraits featuring friends of his who are sisters. Of the two photos, Flores said he focused on creating or finding a colorful environment in which to place his subject. Both works are very characteristic of this idea.
With "Chantal Sunset" (below), Flores goes as far as placing multicolored, found objects to supplement the natural framing of the creek beds. When asked if any digital manipulation occurred after taking the photo, Flores said of the idea that he "didn't believe in it." This is most likely a product of him "accidentally" finding interest in photography when given a 35mm camera five years ago in his early 20s. Incidentally, though, he hasn't since used a digital camera in any of his work.
Veteran freelance photographer Tammy Perez feels differently about the subject, saying she finds herself "more experimental" when taking digital photos because she can "look at something and consider what it could become." In an untitled portrait of her son, Perez altered her work by varying focus, filters and coloring during post-processing in Adobe Photoshop. The result is an inspiring piece that looks both antique and Flickr-y current. The subject's crisp hands and subtly-colored necktie almost look superimposed on a photo found in a dusty chest of memories.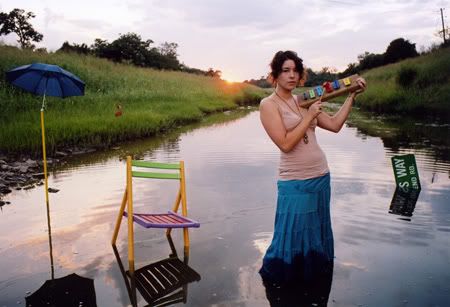 "Digital post-processing has opened up a whole new range of creativity for me that goes beyond what I had found in shooting with film alone," Perez said. Though her journalistic work has been featured in a myriad of publications around town, this was her first exhibition of personal work.
Fotografica comes to Austin as part of FOTOSEPTIEMBRE USA, a South Texas festival turned international event. Its goal of fostering a creative environment for professional and amateur photographers alike, however, has remained constant. In accordance with this, both Flores and Perez were very content with the company in which their work was being featured. Technique and age aside, they seemed more excited about the opportunity to interact with other photographers than showing off their own work. It was comforting witnessing such concerted effort.
La Peña is located at 227 Congress Ave.