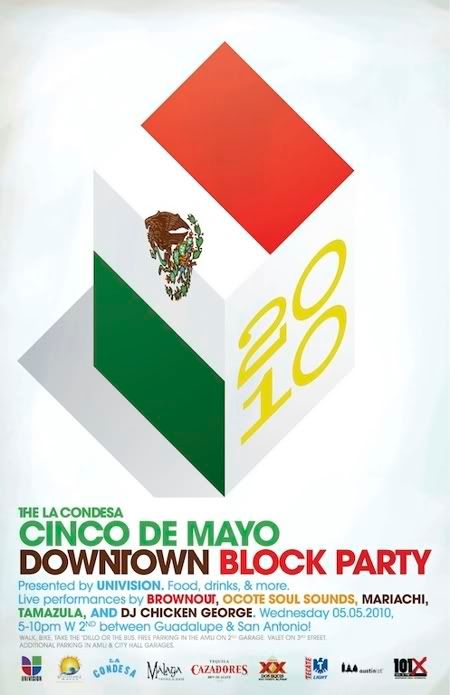 The "it" event for this year's Cinco De Mayo festivities in Austin appears to be the La Condessa Cinco De Mayo Downtown Block Party. It all goes down on West 2nd Street between San Antonio and Guadalupe Street. Presented by Univision, the event will feature live performances from Austin Vida staff favorites Brownout and Ocote Soul Sounds, as well as from Mariachi Tamazula. DJ Chicken George will also be spinning.
Besides the chelas (beer, for you non-Spanish speakers and coconuts), tequila shots, margaritas and street food, the best part of the whole thing is that this is a FREE event. Admission is FREE. Parking will be avilable in AMLI gargage, so look for the entrance on 2nd Street. There will also be valet parking 3rd Street and available in the City Hall garage. The festivities last from 5 to 10 p.m.
If you've never had the opportunity to see Brownout or Ocote Soul Sounds live before, take advantage while it is all FREE. Check out our Austin Vida live videos of each band. We'll see you there!