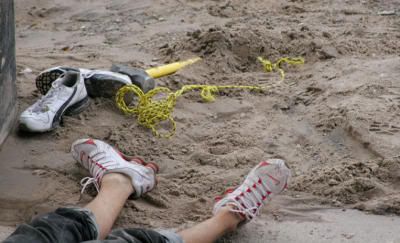 Last week, an FBI report was released that showed the job of a Border Patrol agent is much safer than that of a street cop in any given city. Yet, for the second time in 10 days, border agents fatally assaulted Mexican nationals who posed little to no threat.
As the El Paso Times reported yesterday, a Border Patrol agent shot a 15-year-old boy in the head because one of his friends was throwing rocks at the agent. Hmm… maybe it's just us, but that punishment doesn't seem to fit the crime. There's a reason "bullet" isn't an option in the game rock-paper-scissors. Totally unfair advantage.
Also, on May 31, border agents fatally beat and stunned a 32-year-old Mexican man. Anastacio Hernández-Rojas had been detained days earlier trying to illegally cross into the U.S. and was being deported when officials claim he became combative. Border agents then used batons and Tasers to subdue Hernández-Rojas. He stopped breathing shortly after and paramedics could not resuscitate him.
We realize throwing rocks at federal officials and getting rowdy with lawmen after they've just uncuffed you are both stupid ideas and deserve at least a whack over the head or a kick in the shins. But seriously: death? If you think death by Border Patrol agent is an acceptable consequence for the kind of behavior you'd see on 6th Street on any given weekend, then you're out of your damn mind. Or maybe psychotic is a better word for it.
Border Patrol. WTF, dudes?! Did the 24 series finale just get y'all riled up or something? You're trying to act like Jack Bauer, but you end up looking like jackasses.
But I'm sure these killings weren't about race. Just like painting a Mexican kid's face on a mural white wasn't about race. Just like banning ethnic studies in Arizona isn't about race. Just like a Seattle police officer shouting at an unarmed, facedown man, "I'm gonna beat the fucking Mexican piss out of you, homie!" wasn't about race. Just like taking Dolores Huerta out of the third-grade curriculum because of her socialist beliefs but leaving a well-known socialist like Helen Keller in the curriculum wasn't about race.
Riiiiiight.