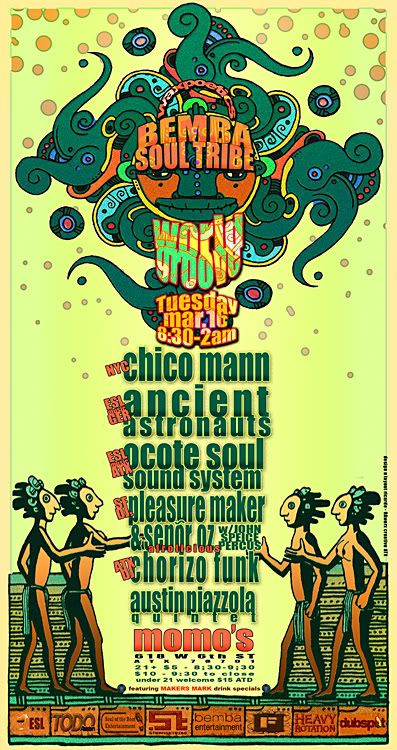 March 16—Our friends at Bemba Entertainment have teamed up with both Strange Tribe Productions and Soul of the Boot Entertainment to bring you an amazing showcase at Momo's. Together they form a mega promotional team called Bemba Soul Tribe. Their inaugural music showcase will debut on Tuesday. World Groove expands on Bemba's established weekly World Music Night series at the live music club. The intention of Bemba Soul Tribe is to create a monolithic showcase that will rock Austin collectively and plant a seed that will inevitably sprout and flourish into one of Austin's most dynamic music production partnerships.
The bill inlcudes local heavyweights DJ Chorizo Funk and Ocote Soul Sounds. We are also excited because this showcase brings us Chico Mann all the way from New York City. You can check out the full line up and details for this event on Do512.
Important note regarding the cover charge:
$5 cover from 8:30-9:30 p.m.
21 and over: $10 cover after 9:30
Under 21: $15 at door.
Momo's is located at 618 W. 6th St., Suite 200. Look for Momo's right above Katz's Deli.