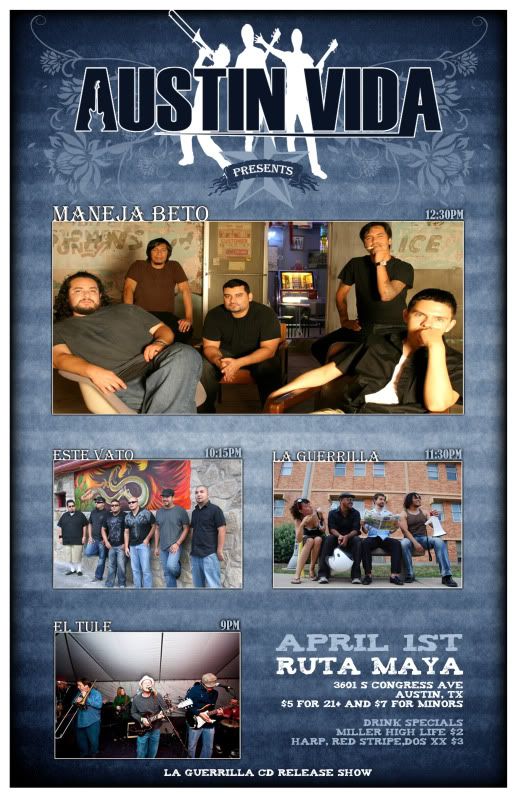 Austin Vida's next showcase is on April 1 at Ruta Maya (3601 South Congress Ave.). With its amazing new sound system and classy aesthetics, Ruta Maya is the perfect choice for our next local Austin Vida showcase. If haven't been to Ruta Maya in a while (or ever), join us on April 1 to see what you've been missing, and enjoy some the best Latin music Austin has to offer.
For those of you on Facebook, be sure to RSVP for this event on the Facebook event page.
And now, the bands…
Maneja Beto (12:30 a.m.) is a five-piece, indie en Español fusion band similar to bands like Latin alternative legends Café Tacvba and Aterciopelados. Recently the band released their latest digital single, "El Orgullo Nos Matara" and has had music videos in constant rotation on Austin's ME Television. An Austin Vida staff favorite, Maneja Beto sets the standard for Latin alternative music in Austin.
La Guerrilla (11:30 p.m.) is a Latin pop fusion of experimantal sounds from South America and the Carribean. Percussions, horns and even magaphones all come into to play when these guys take the stage. La Guerrilla has been featured on Austin Vida and Austin's local Fox affiliate, Fox News 7. This Austin Vida showcase is also serving as the band's CD release for their self-titled debut.
Este Vato (10:15 p.m.) are serious up-and-comers on the Austin music scene, having already been featured in major Latino publications such as Remezcla, Austin Vida and La Banda Elastica. With their debut album recently completed, Este Vato will only continue to keep audiences dancing and nodding their heads well into 2010.
El Tule (9 p.m.) combines influences of cumbia, Afro-Cuban, rock, merengue, salsa and reggae. The music is influenced by art, history and culture often focuses on legends and tales of the mystical. El Tule recently released their sophomore album, Volumen II, and have been active for over six years in the Austin music scene. Simply put, El Tule is for those who love to dance, feel good and enjoy the positive expression of music.