Alonso Reyes was raised around art his whole life. The Lima, Peru native's mother was an artist, but she discouraged him from following in her footsteps.
"She said 'Don't be an artist because nobody's going to marry you. I'm an artist because your father's a doctor,'" explained Reyes.
Not taking her advice, he studied art at La Escuela Nacional de Bellas Artes del Peru. However, after he lost his kidney and had to complete dialysis treatment, he was confined at home for a period of 10 years where he used this time to teach himself more about his own technique.
Reyes has been an Austin-based artist for 14 years now.
When you first step into Reyes' small studio, the most obvious thing that grabs your attention is the paintings covering every inch of the wall with naked women. At first glance, the completely or half-naked women featured on the murky images seem to be eerie portrayals of Reyes' wicked dreams (or nightmares). However, Reyes explains that these paintings are his psychological reflections from the past 20 years of his life.
"I paint about psychological things about my life. I use different periods of my life like my addiction times when I was in school," said Reyes.
I was invited to Reyes' home to get a walk through of his collection of work and talk about the actual experiences that influenced the risqué paintings.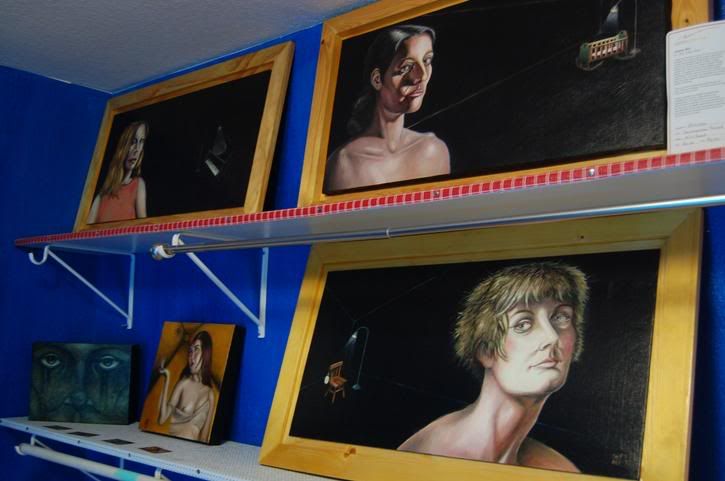 Paintings from Alonso Reyes' gallery in Austin. All photos by Sarah Vasquez.
So are these paintings I'm seeing from the current period of your life?
Alonso: Yeah, this is 2005. I paint everything from dialysis to rehabilitation, drug addition, divorce—everything that happened in my life. Sometimes I use friends' situations, like my new painting, "The Broken Doll." That's a friend of mine that is troubling right now with alcoholism. I use their struggles help me to resolve my pain so I can identify because I come from the same kind of problem.
What do these paintings say to you?
Alonso: A lot of my paintings can be therapy. Life is heavy for me, so I like to put that heavy part in the painting. I use my paintings as therapy and therapy of myself. I learn during the time from my actions, like if I see more inside to outside, I can accomplish more in my dreams. If I focus more and listen to inside—you know, what's going on outside—life is more peaceful and like that, everything is spiritual and now, so ask me a question.
How long have you been doing art painting? Like you said, you went to art school, but when did you first pick up that pencil?
Alonso: My dad was a doctor and my mom was an artist. So I saw painting since I was five years old, and I love all those classic books. I was always fascinated with the paintings that were more shocking. For some reason I loved it. I was never scared. I always went back to them all the time. You know Saturn eating the Sun, or David with the head of Goliath. Stuff like that always made me dream a lot and I loved to see those paintings and how it was made. I always wanted to paint in oil, but my mom wouldn't let me paint with oils. I painted in different materials until I went to the fine arts school when they start practicing with the oils. So I've been around art all my life practically. Since I went to the fine arts school is when I started to understand about oil and about composition and theory of color. I can tell you those basic things are really important. The academic part is really important. I can see in artists that don't have that part and you can recognize it immediately. They have a lack of that basic thing because to develop your own technique takes years—10, 20, 30 years—but that solid beginning helps you to build that journey. Without that solid beginning is really, really difficult. Just really good artists with a lot of time can be a self-taught artist without formal training.
How long does one of these large paintings take to paint to finish?
Alonso: This new technique Arturo Rivera taught me takes from one to two months for each painting. Now, what I try is to do is reduce the time. Maybe two weeks. It's really hard because it's time consuming. It's a lot of concentration.
They're very detailed.
Alonso: When I was painting expressionistic paintings, I could finish a painting in four hours, but now when I do this new technique, the time of concentration make it a lot longer. I use varnish and it takes time to dry, and you work by layers. You have to brush several times in order to get that finish.
What is the waiting time for the drying process? Do you ever find yourself wanting it to hurry up and dry so you can get the inspiration out?
Alonso: Well not normally. In that time, I'm always thinking for the next painting. So my mind never stops. Sometimes I wake up in the middle of the night and I need to get a pencil and draw a dream really quickly. That happens at anytime so I need to have some paper and a pen and then do the drawing because I'll forget. So good ideas can come at anytime: in the middle of the night, in your shower, washing dishes, at a party dancing, talking with somebody and—pop!—an idea comes from a conversation. I love it. It's real interesting.
I have the same problem with writing. Like I'll be washing dishes and I'm like Oh my god, I gotta write this down.
Alonso: Yeah, exactly. I think in all of the arts. I think all of the professions have the same basic roots. Imagination's really important and can come anytime. So you need to be prepared. You need to be alert and you need to always be thinking about what you love to do.
For the new painting that you're working on, when did you start?
Alonso: The new painting, I started like two months, one month and a half. It's almost ready. I need a couple more weeks to make the final layers. It's like in most of my paintings, there is always like a psychological theme. I love females, but a lot of people get confused. A lot of people see my paintings and they (the females) are sharp, they look strong. I don't use regular nudes. Most of the time, the girls are without shoes in a resting post. Partly because it's what the beauty is now. The other is something really important that needs to be behind that. That's not the painting, you know. That's because I need to explain my paintings because if you see just the surface, you just see a nude—a girl in lingerie in high shoes—but it's something bigger than that. I'm always thinking like I'm not painting for today. I'm painting for the future. I'm going to die. I don't know, but you're going to die soon but the painting is going to stay, so they need to know what's going on at this time.
Kind of like when we we're in school and we're looking at paintings from like the 1500s and stuff. How that showed that period.
Alonso: Exactly. I always have those dreams. I think I'm not going to be here, but my paintings are going to stay here so I need to take up this time and…
And show how it's going to show the future people how we were.
Alonso: Yeah, exactly. That's something that always talks to me in my mind. You don't paint for today, so don't worry about the painters. They paint landscapes and flowers to sell. It's ok. Good for them. They can provide for their families. You have a different profession. God gave you a different profession. You need to paint from your heart. This is what you need to do because I told you, I come from a rough life—addiction, dialysis. I almost died. Many times, I almost died for this crazy life. So if I survive, it's not to paint flowers. If I survive all those things, it's not to try to sell a painting today just to get noticed in the newspaper. That's not important. Sometimes I want to be in the newspaper. I get jealous for five seconds when I see a friend in some magazine but after that, I need to keep doing what I need to do. I need to be in contact with somebody higher than the earth. When I'm thinking about that, I just need to keep painting. I just need to keep painting for my life. I know somebody's going to identify. I know somebody's going to feel it. Maybe not today. Tomorrow. I don't know. But if I'm wrong, I don't know. I don't feel wrong, you know. I don't feel it. Many things happens in my life that tell me to just keep painting and everything's going to be fine, but paint from your heart.
Anything else you wanna add?
Alonso: Well, just thank you so much for coming here to interview me. I just want to say if somebody has a dream, they need to follow that dream and work hard in that. That is going to give you everything that you need. Most importantly, they give you a piece of mind.