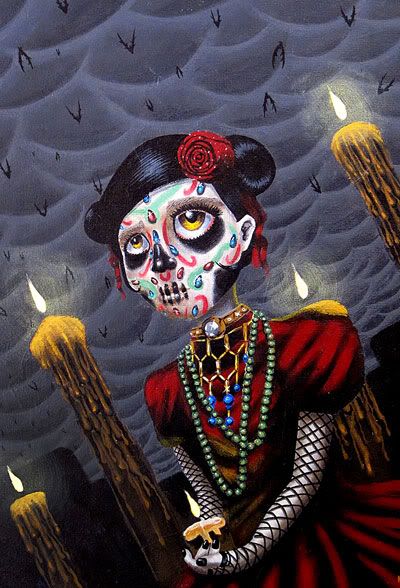 La Peña's latest exhibit, "Arte Calaveras y Flores" (Skull and Flower Art), features the artwork of 35 Latino artists to celebrate the upcoming Dia de los Muertos holiday. The opening reception will be held Friday, Oct. 29 from 6 to 8 p.m. at the downtown gallery.
Dia de los Muertos, also known as Day of the Dead, is based on ancient traditions from the Aztec, Mayan and Zapotec cultures. It occurs on Nov. 1 and 2, coinciding with the Catholic holidays of All Saints Day and All Souls Day. The annual holiday focuses on gatherings of families and friends to honor, pray for, and remember loved ones who have crossed over to the "other side." This usually involves building shrines to honor the deceased made of personal photos, sugar skulls and skeleton figurines, candles, incense, and the departed's favorite food and drink. One of the most important components of the shrines is the marigold, or "zempasuchil", which is the traditional flower used for Day of the Dead. Many believe that their strong scent and bright yellow color invites the spirits of the deceased to the shrines.
La Peña is an interdisciplinary cultural and educational organization dedicated to the enhancement of art in all its forms. The gallery allows Austin's visitors and residents the opportunity to view the full spectrum of traditional and contemporary Latino art. La Peña is located at 227 Congress Ave.
The exhibit runs from Oct. 29 to Nov. 23.