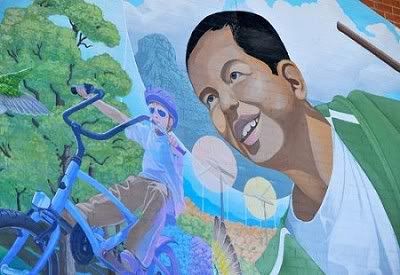 I remember when I was a third-grader and we had a school-wide vote to determine what our new school mascot would be. I voted for the seal, but the bobcat won. I was disappointed, but at least I felt like my opinion was heard and counted. It was perhaps the first seed planted in my sense of civic duty.
Similarly, a K-5 school in Prescott, Arizona, recently had its students vote on mural designs for a planned mural on a campus building. The Miller Valley elementary students chose a design that featured a real-life student from the school. The student happens to be Latino (pictured above).
Well, less than a month after the mural's unveiling, school officials are now asking the mural's designer to paint over the boy's face to depict a lighter-skinned child instead.
You see, while the artists were painting the mural over the course of two months, drivers in the nearby intersection constantly shouted slurs such as "Get the nigger off the wall" and "Get the spic off the wall." Not only that, but Prescott city councilman and local morning radio host Steve Blair fanned the flames, saying the mural looks like graffiti in Los Angeles.
Added councilman Blair: "I am not a racist individual, but I will tell you depicting a black guy in the middle of that mural, based upon who's president of the United States today and based upon the history of this community when I grew up, we had four black families—who I have been very good friends with for years—to depict the biggest picture on that building as a black person, I would have to ask the question, 'Why?'"
We're not a vulgar website, but you're a bigoted moron, Mr. Blair. First, he's Mexican, not black. Second of all, why not? He's a real kid at the school, and his classmates and teachers chose him to be on the mural. You want to squash the civic participation of these kids because brown people make you uncomfortable? Fuck you, Mr. Blair.
The councilman also said this: "I'm not a racist by any stretch of the imagination, but whenever people start talking about diversity, it's a word I can't stand."
You're right. It takes zero stretching of the imagination to see that you're racist. It's plainly evident.
First they want to look for any excuse to question the citizenship of Latinos (SB 1070), then they want to eradicate Latino history from the schools (HB 2281). Now, they're literally painting us out of the picture.
Can we go ahead and vote to change the state's name to Aryanzona?
By the way, Steve Blair has a city council page with his phone number and email. Let the councilman know how you feel about his comments by clicking here. As always, discussion is encouraged on our Facebook page.
More about this issue:
– Prescott Daily Courier story
– Arizona Republic story
– USA Today story