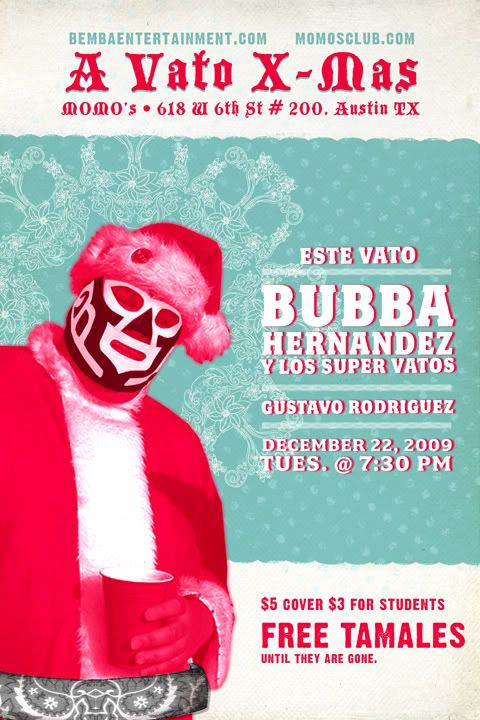 Every Tuesday at Momo's is World Music Night presented by KUT and Bemba Entertainment. Bemba Entertainment's founder, Brandon Badillo, has booked some great musical acts of all genres, including Latin acts such as Arthur Yoria, Ocote Soul Sounds and Charanga Cakewalk, to name a few. Nowhere else in Austin have so many different bands from all over the world been given a weekly showcase of this stature. Tonight's showcase is all Latino and puro vato.
Performing this Tuesday for what Badillo is calling "A Vato X-Mas" will be the hot young Latin fusion band Este Vato. The guys from Este Vato just played our Austin Vida showcase this past Saturday and sounded like a band that's been playing for years. If you missed them, be sure and show up by 8pm for their set.
Also performing Tuesday at the Vato X-Mas showcase is Bubba Hernandez, a former member of the two-time Grammy Award-winning polka rock band Brave Combo. Hernandez's album liner notes put it best when describing his music: "Fiery Bilingual Cumbia-based Latin Pop Rock songs of Intrigue, Naughtiness, Heartbreak and Other Steamy Delights." Bubba Hernandez takes the stage at 10pm.
Stay late for Gustavo Rodriguez as he takes the stage at midnight. Rodriguez's musical influences range from Bob Marley to Herbie Hancock and everything in between. He's a musical talent unknown to many, but well worth seeing.
Did we mention free tamales? That's right. Badillo and a few of his friends are preparing tamales as we speak to bring tonight. It is first come, first served, so don't show up late and expect to eat free. Get there early and enjoy your night.