Photo by Mari Hernandez
It's a Saturday night in East Austin, and artist Miguel Maldonado stands behind a makeshift art bench. Two large, blank canvasses hang loosely on sheets of lumber.
He's unpacking for the night's show, the cold wind making his fingers look white as he lays out small paint cans.
Miguel was there at Vinyl Entertainment and Do512's "The River Flows East" event. He was brought on to provide 'live graffiti art' in addition to hair, art, and even photography from local venders.
So, 'live graffiti' art. Isn't that something you can find on any fence or building around town?
Actually Miguel says, "I guess the easiest way to explain it is late '70s, early '80s graffiti art."
Point made. As the night went on, people clutched Lone Stars, shivered in their coats and  huddled around this set up. As he painted, he's clad in only a light blue t-shirt layered over a navy blue long sleeve. He reached up, making shorts strokes with his brush, leaving a swath of yellow paint.
"Funny thing, Miguel says, "I bounce back between abstract and actual using paint and using traditional materials."
He's used to going with the flow. Miguel found himself in many places before finally claiming art as a career.
Originally from Houston, Miguel had been doing art for the last 15 years, even doing some art shows around town before taking a break and to coming to Austin to attend Texas State in San Marcos.
"Oddly enough, I moved down here for music," Miguel says. "I played in bands in Houston moved out here to get away and I came up here expecting to do the whole music thing that never panned out. I've filled in for bands in little side gigs."
As he says, he played mostly bass and some "mediocre guitar," so needless to say the country band he ended up playing in didn't pan out. He got his degree in studio art and used the time to figure out what style of art fit best.
"When I first started there, a lot of the stuff I was doing I was just 'ugh this sucks' and I was kinda just trying to find my niche I had go through a lot of styles that didn't work, well some people may have thought they worked but I wasn't happy with until I came a cross a project where I had to make a chair based on the 2004 election."
For that project, Miguel took a stool, turned it upside down and with some grout, turned the chair into a trash can.
"It kind of came across like, 'I could use this stuff' in a lot of my work to make a statement."
Even today, he bounces back between styles. The art he painted for the Vinyl Entertainment show is something he was transitioning after working with materials easily found at home depot: thin grout, wood stains to go for an organic, earthy look.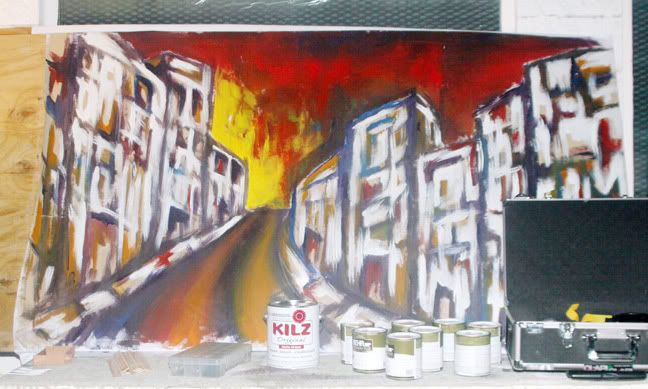 "It takes a lot of mistakes before you actually figure out a style. I like to work out of my comfort zone and try other
Miguel works through a lot of this in his garage turned studio on his down time from working his 30 hours as a bartender at italian restaurant Bucca di Beppo. So his art, as he says, is "good therapy."
In the meantime, he's sent in his applications for graduate school to get his masters in Fine Arts to eventually teach college art.
"Teaching allows you to work on your art, you have a studio and it'll facilitate my work," Miguel says. "Even being in the college environment, you're always exposed to new and refreshing ideas every year because you've got new kids coming through."
By the end of the night, the once blank canvas has a urban snapshot of buildings pushed together reaching toward a murky sky of red, purple, blue, black hues.
So, what would Miguel tell anybody considering a way to make life in art work?
"As trite as that sounds, when you do stuff do it to represent yourself, do the art for you but learn something to pay the bills."
"Learn to bartend. I got 30 hours a week. I got a lot of downtime," Miguel laughs.