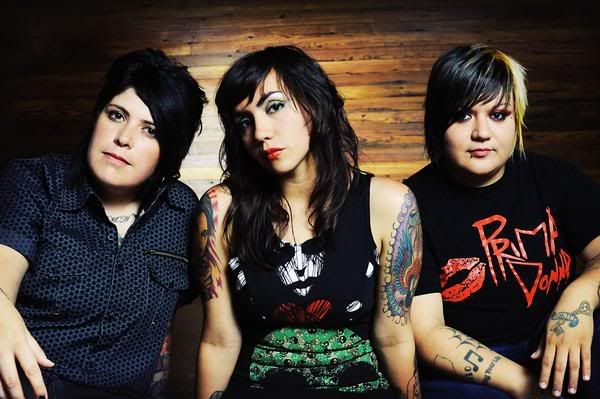 Girl in Coma from left to right: Jenn Alva, Nina Diaz, Phanie Diaz (photo by Adam Stockstill)
San Antonio natives and Blackheart recording artist, Girl in a Coma, are no strangers to Austin. Although they are from San Antonio, they play in Austin so often that they almost feel local. This year alone, they have played big shows at Mohawk and Emo's. Last year they played at the first annual Pachanga Fest and are a SXSW regular.
I remember seeing Girl in a Coma live for the first time at Stubb's indoor in the fall of 2007. It was at that show where I first met my good friend and Austin Vida's Senior Editor, Angela Maldonado. I was blown away by how great their live show was and have been a huge fan ever since. Having roots in San Antonio, it makes me proud to see Girl in a Coma succeeding and growing in popularity. With worlds of talent and two great albums under their belt, the sky is the limit.
The ladies take the stage this Thursday at Emo's indoor with Killola and Your Kiss Causes Crashes. It will be their last Austin appearance for while as they are on tour with Black Gold and don't come back to Texas until November. This is a great show and you certainly won't want to miss it.
While we are on the subject of Girl in a Coma in Austin, we caught up with drummer Phanie Diaz for a brief chat. We wanted to pick her brain about what Girl in a Coma does when in Austin and why they love it here so much. We know Austin certainly loves them.
What is it about Austin that keeps bringing you back? (Besides your booking agent)
Phanie: Well besides her, of course the people. We've been watching our fan base get bigger and bigger each time we come. Plus we always have fun at our Austin shows. We love the people of Austin.
Where can fans find you hanging out in Austin?
Phanie: We have lots of friends in Austin so we tend to just hang at their places. Once in awhile we will walk around 6th Street and hang out in different bars.
Where's your favorite spot to eat in town?
Phanie: Veggie Heaven!!
That makes sense as I don't see San Antonio being big on vegetarian restaurants. So what does San Antonio have that we need here?
Phanie: What we love about San Antonio is the sense of pride the scene has. All the bands in San Antonio know each other and try to support each other. It's a united pride, almost like we are a hidden secret. I think Austin is missing that. It seems that Austin has become another place where bands believe they need to move to in order to get noticed, like another L.A or New York. I mean, we are not from there so I'm sure Austin has its really cool spots. From an outside perspective and having played along 6th Street, that's the first impression.
Thanks Phanie! See you at Emo's Thursday!
Be sure and check out our live video from Girl in a Coma right here and at our Austin Vida YouTube Channel. Posted below is Girl in a Coma live from their last show at Emo's this past June, performing their song "Baby Boy" off Trio B.C.
For more info on Thursday's show with Girl in a Coma, click
here
.
—
Ian Morales is Austin Vida's Editor in Chief. He can be reached at imorale[at] gmail.com.