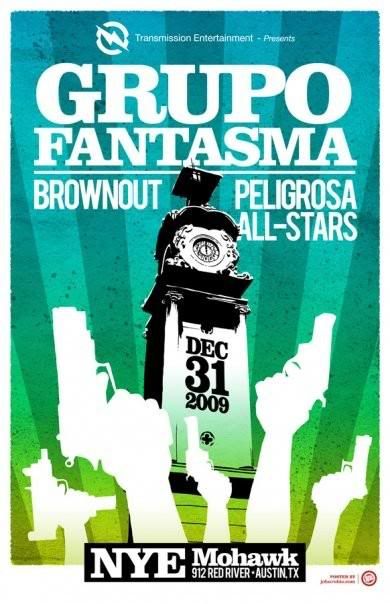 Don't have New Year's Eve plans yet? Not happy with the usual get-togethers that you don't want to go to anyway? If so, then change your plans right now. On Thursday, December 31st, Mohawk will be host to the hottest new Year's Eve party in Austin.
The evening will begin with the Peligrosa All-Star DJs on the ones-and-twos. A collective of talented individual DJs, Peligrosa is known for parties at The Parish and spinning the best cumbia beats around. They alone are worth getting out of the house. Catch them during their regular residency gigs at The Parish if you haven't before.
Follwing the guys from Peligrosa will be Austin Latin funk band Brownout. No strangers to the scene, Brownout has had a major influence in keeping the funk alive and well in Austin. Their debut album, Homenaje, recieved lots of postive critical acclaim. Desptie that early buzz, they were still seen as the little brother of Grupo Fantasma, which share members coincidentally. With this year's release, Aguilas y Cobras, they have come into their own and have polished their already funktastic sound. If you have never seen them live, you are missing out. Anyone and everyone with a pulse gets down to Brownout.
The night's headliner, Grupo Fantasma, has pretty much defined the decade in terms of the Austin Latin music scene. They are Grammy nominated, Austin Music Award winners and tastemaker favorties. Sonidos Gold might just be the best Latin Music album in your record collection or iPod. After they take the stage Thursday, they will be in the studio recording new material to be debuted in 2010. They may even play some material at Mohawk. Who knows?
It seems that Grupo on New Year's Eve has become a tradition of sorts, with the group headlining New Year's Eve shows at The Parish in 2008 and The Monarch Event Center in 2007. When you see them perform live, it will be easy to why they are the quintessential party band. As Prince says, they are "Real Musicians playing real music".
So come join us as we hang out, dance and toast the new year Latino stlye. Adance tickets are available and we highly encourage you to go that route as this show is expected to sell out. Mohawk is located at 912 Red River, at the corner of 10th and Red River in downtown Austin. If you aren't yet familiar with the groups, check out a couple of videos posted below. Again, make sure to purchase advance tickets here:
Grupo Fantasma
Brownout
DJ Orion of the Peligrosa All-Star DJs