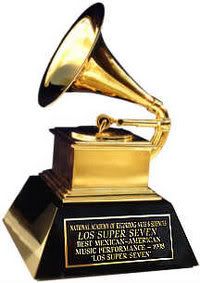 This year's Latin Grammys took place in Las Vegas, Nevada at The Mandalay Bay Events Center. Known for great performances and out of the ordinary pairings, this year was no disappointment. Calle 13 were the big winners, taking home the album of the year award, and were the best live performance of the night for many. Here are some other great clips from YouTube in case you missed the show or want to relive the event. This year's event was closed by none other than Mexico's favorite, Juan Gabriel. Although he's a great entertainer (to say the least) he always makes our mothers and abuelas cry when he sings. Why is that? And why was he spilling perfectly good cognac all over himself during his performance?
Here is the best salsa performance of the night, featuring legends Oscar D'Leon and Gilberto Santa Rosa. It was one of the best salsa performances we've ever seen on television. One question we had was why Gilberto Santa Rosa decided to shave his sweet bigote?
Here is what most Top 40 or mainstream U.S. press will be buzzing about, Alicia Keys and Alejandro Sanz. This performance was this year's Juanes and John Legend duo. Alicia's accent wasn't that bad. She must have developed it while hanging out with all the Boriquas and Dominicanos in New York. Be heads up also that the sound on this video is really low, but it is the only decent one we could find for you.
Next we have the opening performance by Laura Pausini, which kind surprised us that she was the opener. Usually for an opener, you come out swinging and getting the crowd hyped up. While Pausini has an amazing voice, it was not the opening we would have chose. Where are Los Tigres Del Norte when you need them?
Next we have the legendary Juan Gabriel closing out this year's Latin Grammys, with an epic 7 minute plus performance backed by folklorico dancers and mariachis. It still angers us that he spilled all that perfectly good cognac. Also, why is Juan Gabriel wearing Liberace's clothes now?
Finally, here is the coolest performance of this year's Latin Grammys which features Calle 13 and the legendary Ruben Blades. Performing "La Perla", Calle 13 pulled out all the stops. As we were watching, we were wondering why weren't those kids at home doing their homework? It was a school night!We were also wondering why Ruben Blades dressed up the performance in his finest t-shirt and cap?
For a complete list of this year's winners, click here.