"Could Float Here 4-Ever" (Carlos Donjuan)
Mexic-Arte Museum's 14th annual YLA exhibition challenges young Latino artists, currently residing in Texas and under the age of 35, to present their vision in a reexamination of social and aesthetic norms with new and experimental mediums such as digital art, live/video/photography performance art, mixed media, graffiti, and small and large-scale installations using paper, fabric, found objects, music, photography, video, movement, and pop culture references.
Eduardo Xavier García, curator of the exhibition, was inspired by the concept that during times of troubled assets relief programs (TARP), we look to art and culture for comfort. Our lona – our cover – is in the creative process. This 14th annual Young Latino Artists exhibition, TARP ? lona, serves as a vehicle where viewers may strip away complexities and obstructions in order to reflect, develop new approaches and move forward… to find their lona. YLA 14 artists include Julia Barbosa Landois, Noé Cuéllar, Joseph Duarte, Carlos Donjuan, Santiago Forero, Héctor Hernández, James Huízar, Sean Adam Ibáñez, Jorge Javier López, Randy Muñiz, Gil Rocha, and Abel Saucedo.  The work of the curator, who spent his childhood in Nuevo Laredo, Tamaulipas, is influenced by the things he experiences daily: politics, family, and technology.
"Prospect" (Sean Adam Ibañez)
"El Cartornado" (Gil Rocha)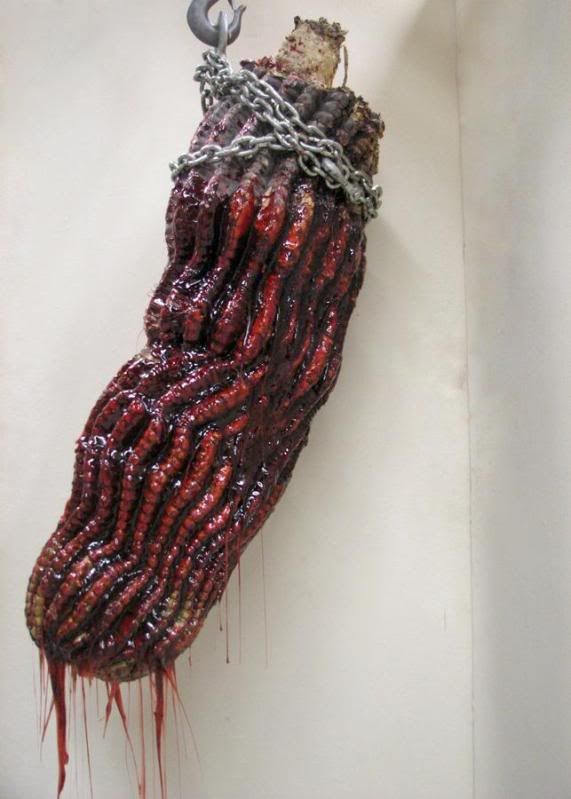 "Candy Apple Cactus" (Abel Saucedo)
"Spectre" (Julia Barbosa Landois)
For More on the Mexic-Arte Museum, please visit their website at: