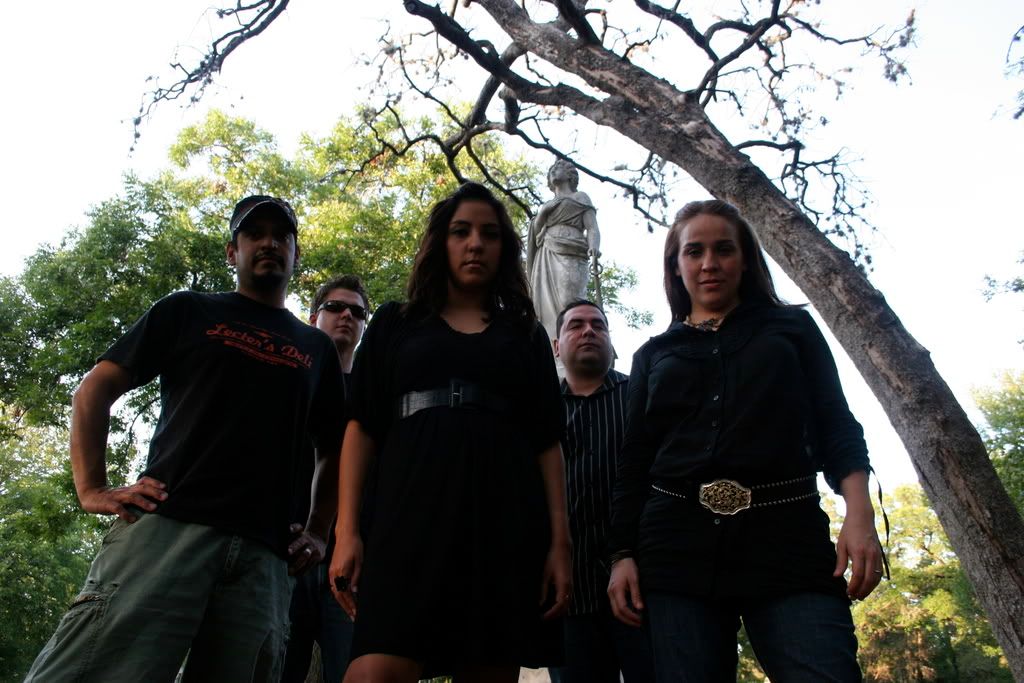 My interview with singer Tanya Martinez started out interesting. I met up with her at Ruta Maya on South Congress, a normally quiet coffee shop in South Austin. But that weekday night, a band set up shop and we found ourselves finding quiet within the confines of my car.
Tanya laughs easily and didn't mind settling into my passenger side seat to talk to me about life and her band Bocastria's latest album, Texicana.
"Actually," Tanya said,  "I first started out wanting the album to be a theme album about a witch who realized she had all this power and the question was whether she was going to use it for good or bad."
What the album is though, is journey through the band's style, ranging from rock to Ranchera to Tejas Reggaeton.
"Our music does not fit in at all in the Austin music scene," Tanya says. "We sing a lot of English and Spanish and our music is all over the place."
Tanya makes no apologies for how band's music comes across, especially when it comes to language.
"I'm a Mexican-American and I'm a Tejana. I speak both languages, I'm fourth generation. I'm a Mexicana, yeah, but I'm an Americana tambien, I'm both."
This sentiment is clearly stated in new album with the track, "Tejana Pride."
"I'm very proud of being a Tejana," Tanya says. "I have that whole cultural background and I just thought there needs to be a song that represents who I am as a person."
Tanya and her sister and harmony vocalist Maddie Briones are San Antonio natives, but the whole band has roots in Texas. Drummer Nathan Cardenas and guitarist Buddy Villanueva hail from West Texas and bassist Kenneth Null calls Houston home.
So, how did they come together in the Capital city? I mean there is even a Bocastria Day here in Austin, May 17th as proclaimed by Mayor Will Wynn in 2007.
"Synchronicity," Tanya laughs. Tanya and Nathan were dating–they are now married– while attending UT for a second degree in Cultural Anthropology and Nathan and Buddy had been playing music together since high school.
"I had this dream," she continues. "I believe there is something bigger and greater than us, and I had this dream that a bunch of people were going to come together, and we were going to play in this band."
That was in 2005. By 2006, Bocastria had a debut EP called "Enter the Groove."
The band has solidified their position in the Austin scene with their new album. In fact, when constructing their songs, Tanya says, they all put their stamp on the music.
"I think we're finding our groove, and what people are going to find is that this album is very different because I think we're exploring more of the rock."
As far as outlook on life, the song, "Creation," comes back to the whole witch theme Tanya wanted to album to be. The song centers around a woman who discovers she's a witch.
"All that is an analogy to our own power, that power is our spirit and we can do anything we want with our lives," she says. "We can use it for the good or for the bad. Life's a struggle and sometimes you use both."
In her personal life, Tanya sums up her outlook.
"It's a very cool time in my life. I have something to say now. I know now the power of going within and seeing myself, not for what other people see me as but for what I see myself as, what empowers me and gives me confidence."
"And that's what I sing in my songs. It's about living life and not worrying about what other people want me to do but doing what i feel my soul is telling me to do."
****
As our conversation winds down, the topic of family comes up. She let's me know that two hours before, her 58-year-old uncle Juan Solis has passed away from a heart attack.  She'd like to mention him as he was there to support the band at their October CD release party. Even in a moment like this, Tanya says she can tell a difference on her outlook on life.
"When I was younger, I couldn't handle stuff like this. You get one life and it goes by quick. If i had to do a show, I would put my heart and soul into the show."
–