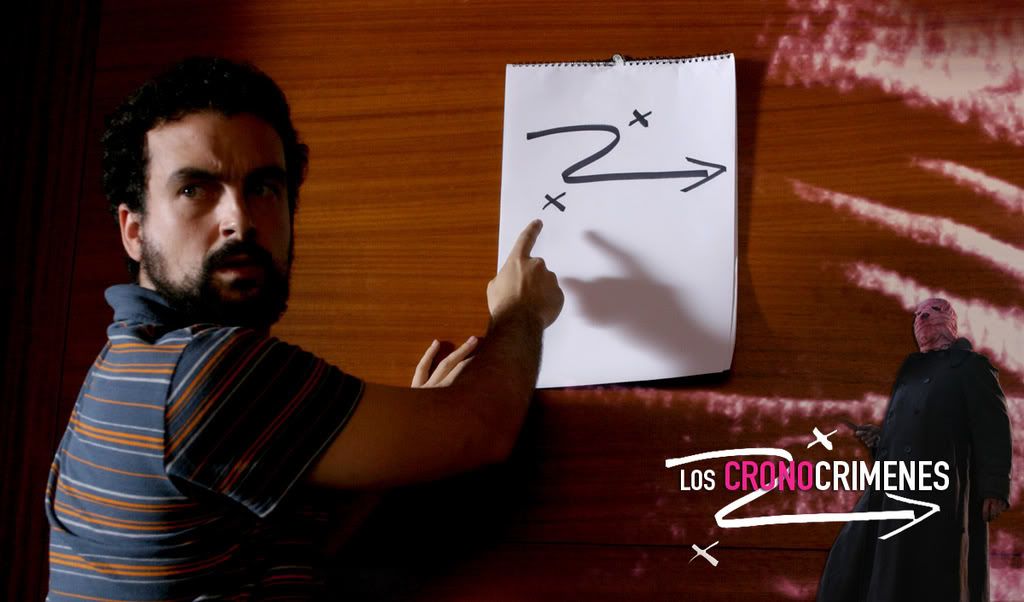 By Justin Stevens, guest reviewer
Time Crimes, the first feature length film by Spanish director Nacho Vigalondo, takes the road less traveled by most time travel films. In its 88 minutes, the film stays away from the scientific explanations behind meddling with the space-time continuum and instead focuses on the effect of returning to one's past, even for a few hours, and its ramifications on the time stream.
Funny in some ways, a scene in the woods where the past and present meet up is wonderfully light, and interestingly dark in many others, Time Crimes begins with main character Hector, actor Karra Elejalde, on his way home from a day of shopping. His persona comes off as oafish and forgetful, highlighted as shopping bags litter the driveway because Hector forgot to close his trunk. After which comes a day of bird watching with a set of pivotal binoculars, in the near by woods.  It is here that the mystery of the next hour and half begins. Hector spots a young woman undressing and goes to investigate; like the character that checks on a strange noise coming from outside, it's obvious that he is in for more than he was expecting.
What comes next will not be spoiled in this review but what can be said is Vigalondo is setting out to reshape a genre that when done right recalls memories of flux capacitors and U-haul storage time boxes (Primer, for the uninitiated) but one that can easily trip itself on its own story and the complications of the back and forth of time travel.
What we have is the former, a smart and complex story that allows the audience to work out the series of events along with Hector and his newly acquired acquaintance, El Joven (the youth) played by director Nacho Vigalondo. The design of the movie is very tight and confined, even when touring a science lab we never see more than is needed, which creates an atmosphere of never quite knowing what is coming around the corner. This building of tension through the cinematography and sound design mounts to a high, especially during one of the film's chase sequences, and brings to the table a hybrid horror/sci-fi film without stepping too far in either one direction.
Enhancing this nod to horror is the "villain" (a loose term at best) of Timecrimes, the bandaged man, whose visage is echoed in each movie poster. The costume design is creepy and foreboding and though his motives are genuine, his addition to the screen and the small ensemble is impressively pulled off without bordering on hokey or too far fetched is far from this, harkening back to characters like the Invisible man and even Darkman. His first appearance will get a quick fright but the depths to which he creates problem after problem will ingrain him as a figure that this film could not do without. His usage of scissors alone will make you think about just how much damage shears can do.
The film is not without its flaws, Hector's reaction and constant disillusionment towards his situation can be off putting and rather aggravating especially when we, as a whole, have seen enough time traveling stories to know and get the gist of what's happening to Hector. Many times I wanted to shake Hector and tell him, "you go do this and stay put or you'll keep messing up the space-time continuum" but in respect to this character flaw, it is what makes his character arch that more believable. The pacing also lags in certain spots, though not for long, but when the story slows or a revelation takes two scenes too many, it shows the weakness in a director who has only done short films before; though when the action picks up again, it hits all the right marks and begs to offer itself into the mantle of great time travel movies.
Timecrimes or Los Cronocrimenes, its original Spanish title, is a without a doubt a film that you should look for whether it is at the theater or in your living room, it hits DVD shelves this on March 31. So grab a lot of your friends, this is one film that will have you thinking and discussing the ins and outs of Hector's dilemma for days to come.
Also, if you are lucky enough to catch the film at the Alamo Village, in Austin, then get there early as you will be treated to several of Vigalondo's short films including his 7:35 de la Manana which received the Bronze Moon of Valencia at the Cinema Jove – Valencia International Film Festival and the Prix UIP Drama at the Drama Short Film Festival. My favorite was Back to the Future 4, very fitting, and Gremlins 3. But don't worry if you miss them, some of Vigalondo's short films will making an appearance on the Timecrimes DVD.
Check out Alamo Village for show times and Time Crime's official website for more information about the movie.