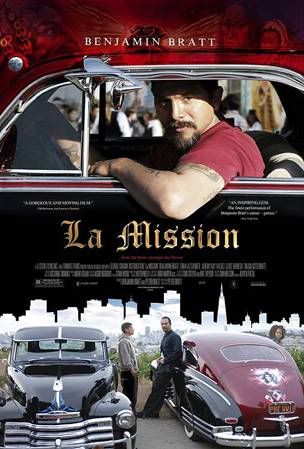 If a nation's political landscape is any reflection of its culture, then ballot initiatives like California's Prop 8 and legislation like Arizona's House Bill 2281 indicate two things about life in the American Southwest in 2010: It's tough to be a gay man in love or a Latino proud of his heritage.
Yet, both of these are issues that get addressed with unflinching candidness in writer/director Peter Bratt's feature film La Mission. Peter is the brother of award-winning actor Benjamin Bratt, who stars here as the reformed convict and slick San Francisco lowriding-homeboy-by-night/selfless-single-father-by-day, Che Rivera. Don't let Che's barrio swagger and smooth one-liners give you the wrong impression: He has a straight-A student son, Jesse, who he's sending to UCLA in the fall, and he's building him a customized car as a high school graduation present.
But what Che doesn't know will tear at the bonds between a father and son. After a night of partying in San Francisco's gay neighborhood, the Castro district, Jesse comes home with Polaroid pictures of himself and his boyfriend dancing at a club. When the machismo-driven Che finds the photos, he confronts his unsuspecting son and disowns him in a tearful rage. The film deals with the father's machismo-fueled, old-country view of life and the son's American experience as an independent-minded gay male.
We applaud the Bratt brothers' nuanced and thoughtful film for portraying Latino lowrider culture in a positive but ultimately honest manner and for portraying the gay community as real people with real emotions, not just flamboyant caricatures.
That said, we realize this film will be controversial for people outside of Latino culture who won't like the idea of a Mexican-American ex-con shown as a caring single father. It will also be controversial within the Latino community, as it challenges our gente's at-times homophobic tendencies. But this kind of dialog is needed if we want to grow as a people.
Cast and crew members from La Mission recently visited Austin to talk about getting the film made, the bumps along the way and the response they've gotten from homeboys and gay men alike. The following is a selection of moments from an audience question-and-answer session at Austin's Dobie Theater, where the film is currently screening.
Why take on the issue of homosexuality as it relates to Latino culture?
Peter Bratt (writer/director): Benjamin and I were born and raised in San Francisco, so it was always a dream of ours to make a film in the Mission. The film was based on a real-life guy named Che, and he started one of the first lowrider clubs in the neighborhood, back in the '70s, '80s. I think the film has a bit of nostalgia from that time. As a writer I was interested in drawing a character who was familiar to audiences, in that a lot of our iconic male heroes are men who use violence to resolve conflict. I wanted to have a character who was like that but to be forced into a situation to find some other way to resolve that conflict that he found himself in. So really, it was an exploration of violence and different ideas of power, and how that informs our masculinity—not just within the Latino culture but the culture at large.
There are many ways to show estrangement between a son and father. What was the motivation for choosing homosexuality as that cause of the tension?
Peter: With an alpha-male like Benjamin's character, he is this masculine, powerful figure who has really earned his stripes as this badass dude who can get down if he has to. And so what I found was that the ultimate threat to that identity is having a gay son. It completely thwarts and challenges who he is, especially if this is his only child. Often times, most men see our sons as reflections of ourselves, so what does that say about us? And within the neighborhood and within the cultura you often hear gay Latino men demeaned and referred to as women in derogatory terms. It speaks to the homophobia we have within the culture, but it really speaks to how we regard women. When we really want to humiliate another man, we refer to him as a woman. It says a lot about who we are. Thematically, it seemed like one of the most powerful things you could do.
Benjamin and Jesse Borrego bring back their chemistry from Blood in Blood Out, once again playing brothers. Was the intention to evoke Blood in Blood Out?
Jesse Borrego: I think that speaks more to the relationship between Benjamin and I on screen. It's really being familiar with each other, like Michael Jordan and Scotty Pippen. This is Phil Jackson. [pats Peter on the back]
Benjamin Bratt: It is an exploration of a milieu that doesn't typically get this kind of treatment. Blood in Blood Out was a good film; it's got a lot of heart in it, but at the end of the day it's about gangsterism. This film is a similar milieu, in that it's really heavy in the Chicanismo. It's an earnest attempt to portray the heart and the soul that exists within this kind of community. But even though it's that culturally and geographically specific, it's something that is not only pan-Latino but it's pan-humano. If you come from a family and understand what love is, the movie's gonna speak to you. It's the attempt to create something honest, and I think people are responding to it, which is the greatest compliment.
Jesse: What I love is, I'm very proud that Peter and Benjamin have shown the Chicano culture and lowriding culture to be positive, to be about family, to be about tradition. I thank you for that, because mainstream cinema is not doing that.
To actor Jeremy Ray Valdez, what was it like portraying a young gay Latino and dealing with the intensity of the dramatic scenes?
Jeremy Ray Valdez: It was an intense shoot, an intense process. But I'll tell you what I had trouble with the most was talking to my father about doing this role, because my father is the quintessential macho Chicano male. When I booked the role, I was psyched. I was getting ready to go up to San Francisco, and when I got there I still hadn't told him I'd got the role. I really didn't know how he was going to react, because he walked out of Brokeback Mountain. He said, "I'm never going to watch a movie like that again." And so to tell my dad, who raised me to be macho, it was a very tough thing. I called him and told him "I got this role and I'm very proud of it." He says "Tell me about it." And I say "I'm playing a gay character." There's a pause. He said, "Well, do what you gotta do. You're an artist. Give it your best, and we'll see how it turns out." Then his first time seeing it was at Outfest (gay and lesbian film fest in Los Angeles). I flew my parents to Outfest. I got the greatest validation when he said "You did a really good job and I'm proud of you."
Peter: So many stories from audience members. I did a Q&A in San Francisco about 10 days ago, and there was this brother, he told me he'd just been in prison for a year. And he was so emotionally distraught; he waited 'til everyone left. He had the tattoos, just like Che. And he said "That was me. That character was me. My son is not gay, but I used to beat him. I haven't spoken to him in eight years." He started crying. He says, "I just called him. He lives in Bakersfield and I'm driving down to see him tomorrow." I said, "Tell him you love him."
Has there been backlash for dealing with the theme of homosexuality and Latinos?
Peter: Our audience so far has been, I'd say, 90 percent Latino, and half of that are veteranos and homies coming in huge numbers to see the film. And some, when they firs hear about it, with reservations—"Hey, I heard this is about jotos." I've even been confronted with some hostility by some veteranos. Then when they see it, they have a whole different take. Like, "Wow, we need to get this to the barrio and to the prisons."
What difficulties have you had in getting this movie made and distributed?
Benjamin: I encouraged Peter to go the traditional route, which was based on my 20 years in the business as an actor. I thought it would get done in a snap: great story, great characters. There would be no problem funding the movie. But everyone said no, for various reasons. We had to be creative; we went up to San Francisco and found three individuals who believed in the movie.
Peter: The bake sales came later.
La Mission is now playing throughout Texas in the following movie theaters:
Austin: Cinemark Tinseltown at 5501 Ih 35 | (512) 326-4408
Austin: Landmark Dobie at 2025 Guadalupe Street | (512) 472-3456
Dallas: AMC Grand 24 at 10110 Technology Blvd | (214) 350-7096
Houston: AMC Studio 30 at 2949 Dunvale | (713) 977-4431
Houston: AMC Gulf Point at 11801 Sam Houston Pkwy E | (888) AMC 4FUN
Houston: AMC Deerbrook at 20131 Highway 59 | (888) AMC 4FUN
Houston: Angelika Houston at 510 Texas St. | (713) 225-1470
San Antonio: Santikos Bijou at 4522 Fredericksburg Rd. | (210) 734-4552
San Antonio: Santikos Mayan Place at 1918 SW Military Drive | (210) 924-6535