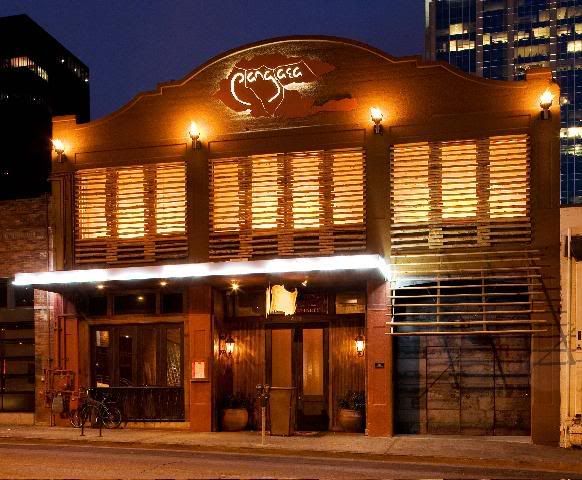 Maybe I watched too much of the BBC's Absolutely Fabulous on Super Bowl Sunday (not a football girl, sorry), so bear with me. Anyway, the main character Edwina Monsoon loves the beautiful things, is obsessed with names and gets herself in outrageous situations trying to obtain them.
So, when I hear her crying for, "Names, darling! Names!" I think of Pangaea.
Located in the Warehouse District on Colorado Street– more specifically at the site of the old Drafthouse for those who haven't been yet–Pangaea's storied reputation easily filled the confines and, in fact, changed the face of the location that held an Austin Landmark.
Now Pangaea is a chain, having started in New York City in 2001. There are now Pangaeas in hot spot cities such as London, Spain, Miami and Hollywood, Florida. The clubs are used to having high profile guests stop by to party. J Lo, Shakira, Prince and Alicia Keyes are a few of the names that have stepped into a Pangaea. But, Pangaea Austin will have something that those locations won't: live music.
According to Steven Seymour, who runs Pangaea Austin, the club caught the live music bug during last year's South by Southwest music festival.
"We found out we have such spectacular acoustics that everyone wanted to play here," Seymour said. "We're still running as a nightclub on weekends, which has always been amazing since the day we opened, but we're running in Austin and it's the 'Live Music Capital of the World."
Before the stage or sound system was built, they had to reach out to music community, and who best to call then Danny Crooks of Steamboat fame. And what happened next was like one those school phone tree moments…Austin music scene style.
"[Pangaea] called me up and said if you want to put music in here, let's do it," Crooks said. "And i started calling around to a few of my friends: Grupo Fantasma,Vallejo, Del Castillo, and got three yes' in a row, boom, boom, boom."
And those groups are exactly who will play the first three shows at Pangaea Live this month on February 5, 12 and 19, respectively.
To prepare for all the live music about to happen, a brand new sound system was installed as well as a 12×18 foot stage with red curtain backdrop.
Booking for the club, Crooks said, is a lot more relaxing than doing the booking for Steamboat for 20-plus years.
"It's been really easy because I'm not having to do five nights a week or seven nights a week like at Steamboat, three bands a night every night. When you're booking 84 bands a month it can be not fun, the rest of the stuff can be fun, but the booking cannot be fun and you're pulling your hair out trying to make sure you're doing the right things."
Through all that, Crooks had definitely done the right things, building an extensive rolodex of bands he's worked with throughout the years. And with the club side of Pangaea still going on strong, the live music coming to the club can ebb and flow.
"The cool thing about this place is there is no real pressure," Crooks said. "If I've got five shows, then I can do five or I can do one show a week if it's a cool show."
With the music scene in Austin, pulling that off would easy to do. Seymour goes on to say he specifically wanted to have local bands play the first few shows then work in more diverse and national acts later down the road.
So what can people expect from a Pangaea Live shows?
"As a club, Pangaea starts as a lounge and builds itself," Seymour said. "If you come earlier, the lights are brighter, the music a bit lower and the the lights go down and the music goes up as the night progresses, and then by 2 o'clock it's a raging party. We orchestrate that, but I think with the live music it's going to be interesting. I think it's going to be a great room for live music."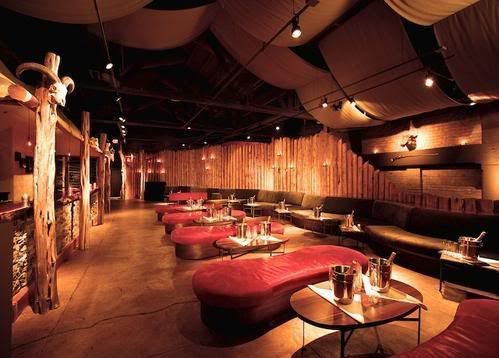 Probably interesting in the fact that Seymour thinks dance floors are boring, opting for a more interactive experience.
"One of the great things is there is never really a dance floor, so you're encouraged to dance on the furniture.You'll come here at night and you'll see all these different levels and the room sort of takes off."
Seymour goes on to describe how one Saturday had about 60 women dancing everywhere throughout the room.
If anything, Seymour says, it's just good practice in this economy for people to just come out and have a good time.
"You need to go dancing, you really need to. It's not about the drinks, you need to go have fun, go out and see a great movie or a great band, but you need to get out and dance you really do."
With local favorites, Grupo Fantasma, Vallejo with opening band Kalua and Del Castillo, it's hard to imagine doing anything else.
*For more information, check out the Pangaea Live Myspace
*To purchase advance tickets, visit Frontgate Tickets