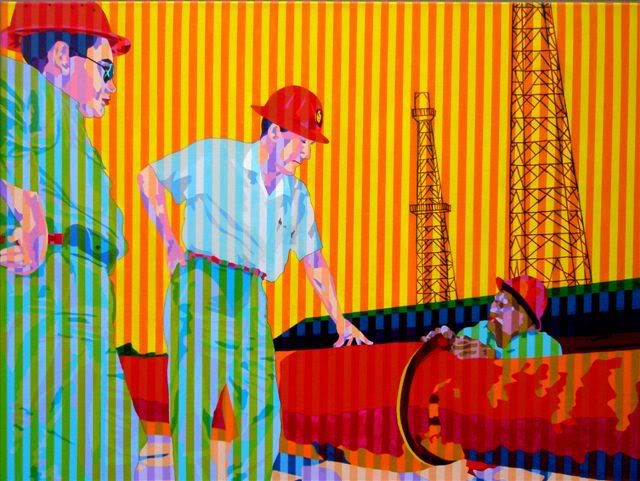 La Peña presents "Tropical Pop," an exhibition of paintings by Stanley Bermudez. It will be on exhibit at La Peña's gallery space in Downtown Austin from July 10 through Aug. 7. The opening reception will be taking place on Friday, July 10th from 6 to 8 p.m.
Stanley Bermudez was born in New Orleans, Louisiana in 1965 and raised in Venezuela. He returned to the United States to attend college in Houston in 1983. He went on to obtain a Master of Fine Arts from Radford University inVirginia. He has worked as a bilingual teacher in both Texas and Indiana and now resides in Athens, Georgia. Growing up in Maracaibo, Venezuela he was exposed to the bright colors of the city, its folk art, Guajiro Indian tapestries, and contemporary master artists like Carlos Cruz Diez and the late Jesus Soto. Those influences led to the colorful look of Bermudez's paintings that many have described as bright, vibrant, and surrealistic with a pop art quality.

The art show at La Peña features paintings from Bermudez's different series of works. His Continuity series depicts contemporary portraits of members of his family, people in American and Latin American history, and people from both American and Venezuelan pop culture. His Banderas (or Flags) series are large paintings that deal with symbolism found in the world's different flags as well as social and political issues associated with them. The Oil Industry series developed from growing up around oil camps in Venezuela and living in Houston for many years.
La Peña is an interdisciplinary cultural and educational organization dedicated to the enhancement of art in all its forms. La Peña's mission is to support artistic development, provide exposure for emerging local  visual artists, musicians, poets and other performing artists, and offer Austin's visitors and residents the full spectrum of traditional and contemporary Latino art.
For more information on La Pena, please visit them online at: