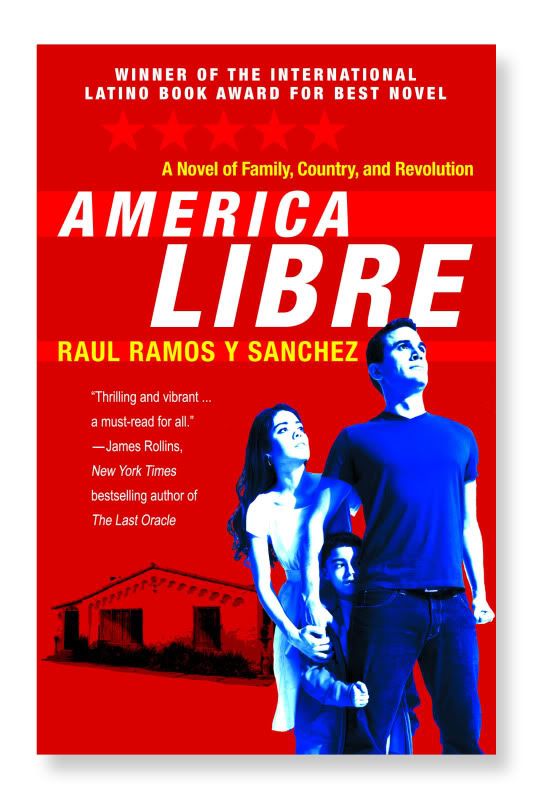 America Libre propels readers into the not-so-distant future, where the United States is plagued by extremism, racial conflict and violence. In response to the upheaval, legislators force Hispanic citizens to relocate to walled-off Quarantine Zones. America Libre is vibrant and intellectually stimulating—readers will become rapt in a mixture of revolution, rhetoric and romance.
International Latino Book Award-winner and author Raúl Ramos y Sánchez discusses his debut novel America Libre.
How did you balance fact and fiction in this novel?
Ramos: Pablo Picasso once said, "art is the lie that tells the truth." I've tried my bestl to make America Libre a compelling, action-packed story peopled by characters a reader can identify with. Along the way, America Libre exposes readers to many little-known facts about minorities and U.S. history. Most of all, I hope readers connect with the humanity of people different than themselves – and grasp the dangers of stereotypes and prejudice.
In what ways did your background influence and inspire America Libre?
Ramos: Reflecting on my past, it's not surprising I would write about a rebellion. I experienced Cuba's revolution firsthand as child. In 1957, my father joined Castro's insurgency. My mother, fearing for our safety and unhappy with my father's political decision, divorced him and brought us to the United States. My father was not an ideologue but an ordinary man convinced he was helping rid his country of a tyrant. He risked his life on the hope of a better future for his family. Sadly, his deeds simply helped usher in another dictator. The realization that sincere and caring people inhabit both sides of every conflict continues to shape my perspective to this day.
If you were a character in this novel, which character's ideologies would most align with your own?
Ramos: America Libre depicts an ideological and cultural clash that escalates into open conflict. That meant creating characters with views extreme enough to propel them into violence. For that reason, I would say none of the main characters represent my personal views. I think ideology is much less important than the extent to which someone will go to carry out their agenda. Reasonable people can disagree. But in my mind, the real enemy is extremism.
In the novel, you include government officials, thugs, families, and political revolutionaries. How did you decide how to represent each of these groups?
Ramos: My life experiences exposed me to most of the cultural settings for the characters in America Libre. As I mentioned earlier, my father was a revolutionary. I also grew up in a gritty, working-class immigrant community in Miami. Later, I moved to the U.S. Midwest where my Ohio-born bride and marketing career introduced me to the breadth of U.S. mainstream society. What I've found is people are complex and often contradictory, wherever you go. Yet we all want the same things: to be loved, to live well, to care for our families, to be decent and fair, to see justice prevail. Our differences inevitably surface in the way we think these things should be done. We humans have an incredible capacity for letting self-interest shape our world view.
What was the inspiration behind Jo's character?
Ramos: Josefina Herrera, called "Jo" by her friends in the story, shatters many Hispanic stereotypes. She is blonde and blue-eyed, perfectly bilingual, educated and rich. You'll find few depictions of a Latina like Jo in commercials, TV shows and movies. But in reality Jo is representative of many Latin Americans. The excuse most producers and directors give for their stereotypical casting is that a woman like Jo would not be identified as a Latina by mainstream audiences. Unfortunately, this is a self-fulfilling prophecy. Along with being a unique character with an intense ideological passion, I wanted Jo to challenge Latino typecasting.
The quotes at the beginning of each chapter are very poignant. What purpose did you want these to serve?
Ramos: I wanted the Latino insurrection in America Libre to have an ideological foundation that was fictional yet believable. So I created Jose Antonio Marcha, a character whose quotations appear at the beginning of several chapters. A one-time cabinet member with the CIA-deposed government of Chile's Salvador Allende, Jose Antonio Marcha is the patron saint of the novel's Latino separatists. Marcha's writings, created in exile in the United States, embrace the idea of a Hispanic pan-ethnic identity with a common agenda: the reclamation of U.S. territory once part of Mexico and Spain. In an irony missed by many reviewers, Marcha's territorial agenda is in many ways similar to the Manifest Destiny movement that drove U.S. expansion across North America. It's not unusual for readers to ask me if Jose Antonio Marcha is real. I take that as a tribute to the research that went into the character.
What were the main challenges you faced while writing America Libre?
Ramos: From its inception, America Libre has been a genre-bending book. Most people say it reads like a thriller but the subject matter is about Latinos and is politically controversial. So the main challenge I've experienced has been for people to get their heads around a novel written by a Latino that doesn't read like "Latino fiction."
You focus on racial dynamics between Hispanic and White Americans, but don't elaborate on other minority groups. How would the book's dystopia affect African Americans and other racial minorities?
Ramos: This is an excellent question. Like all good questions, however, it has no simple answer. As a Latino, I felt somewhat qualified to speak out about issues affecting all Hispanics. While some may argue that's presumptuous on my part, it would be even more so if I speculated about racial dynamics regarding the African-American community and other minorities in the novel. So I knew tackling that subject fairly would require a considerable amount of space in the novel. During the editing process, I cut nearly 20,000 words from the America Libre manuscript. I wanted the novel to be a taut narrative that kept the reader focused on the principal characters and the plot. In eliminating thematic tangents, limiting the story to the Latino community was one of the choices I made. Interestingly, I've received numerous positive comments from African Americans who have read the novel.
What do Americans need to know about the immigration experience?
Ramos: I think most mainstream Americans know they're descendants of immigrants. But they often fail to realize the motivations driving today's immigration are no different than those of their own ancestors. The family from Oaxaca who crosses the U.S. border in search of a better life is no different than the English settlers from four centuries ago who braved an ocean and a strange new land for the same reasons. In truth, both came uninvited. But neither came to conquer. They came to prosper and coexist. I hope America Libre puts a human face on immigrants and helps all Americans see themselves in today's new arrivals.
What are your thoughts on a film adaptation of this novel?
Ramos: I've been very encouraged by the many readers and reviewers who have said America Libre would be a compelling film. I didn't set out to create a cinematic novel but the sharply-drawn characters and strong plot certainly leave that impression. We've already had an offer from one indie producer but my agent advised against it. A second production company is now considering the novel. We'll have to wait and see how that pans out. My main concern with a film adaptation of America Libre is to make sure the characters do not become stereotypes. I'm hopeful we'll find a producer with the courage to tell this provocative story – and tell it without the usual Hollywood typecasting of Latinos.
America Libre can be purchased locally at Book People on Lamar. Visit the author at RaulRamos.com.