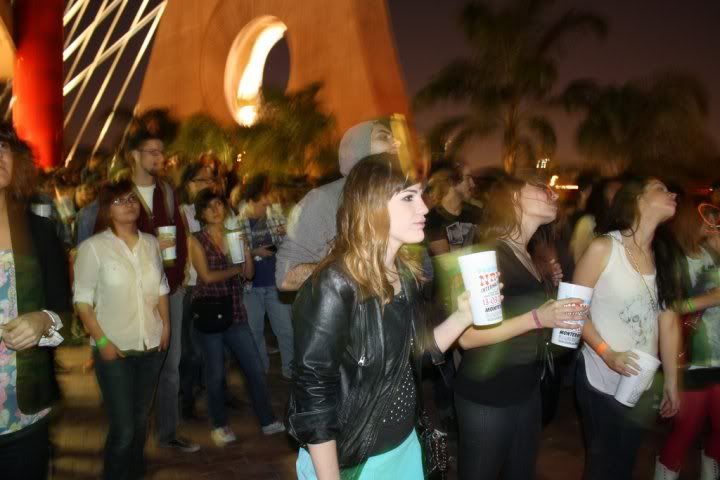 If musicians are always late, I guess it's fitting that a music festival start late, too. That's what I was thinking when I arrived at the Alianza Francesa, a French school I've known all my life—I attended for a while (and quit soon after), thanks to my mom's strong belief that I should be trilingual—located in San Pedro, Garza García in México. Or Monterrey, for those who couldn't care less about municipalities.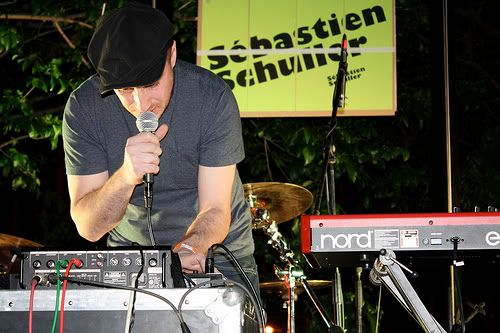 The organizers were barely starting to set up while different band members and managers unloaded instruments from beat-up vans. Time issues aside, the inaugural Festival Nrmal quickly became swarmed with artists, vendors and music lovers of all ages. The festival, a hodgepodge of madness, served not just for the music-driven, but for those craving art and throwing back a few beers with friends on a Saturday afternoon.
The stages set up around the school and on the parking lot weren't the only focus point. One could turn left and right and find 1,000 things to look at, like the '60s-style living room set in the middle of the entrance. Or the colorful wooden blocks laying around, with opened paint cans still next to them, as if waiting to be picked up and splashed on the seemingly unfinished pieces of artwork. Many vendors took advantage of the opportunity and advertised their stores, selling Bowie t-shirts and macabre black-and-white drawings of skulls and what one would assume were human guts.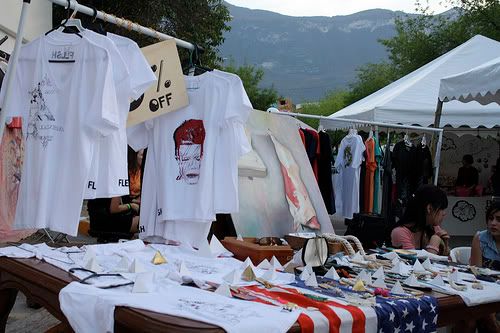 You could walk into four different spaces: the red stage, the green stage, the blue and the dance tent. In each one, mostly people in their 20s danced to the music, or waited patiently for the next band. The stages stood in the small gardens of the school, so if you peered into the building's windows—which of course I did—you'd find children's chairs and short tables and posters with French conjugations plastered on the walls.
The red stage hosted several bands like Lady Hustle and regio/Argentinian band El Cuarto, along with 60 Tigres, the most anticipated group received by the largest crowd. The band members were excited to finally have a festival in Monterrey dedicated to alternative music and smaller, unknown bands. El Cuarto's front man, Nico, yelled out to the crowd with a smile on his face, asking the listeners to raise their hands and dance with them. When 60 Tigres got up on the stage, their songs clearly more familiar, more people arrived with their beers and cigarettes burning, nodding along to "Cancer de Pulmón", which the band announced was from their new album.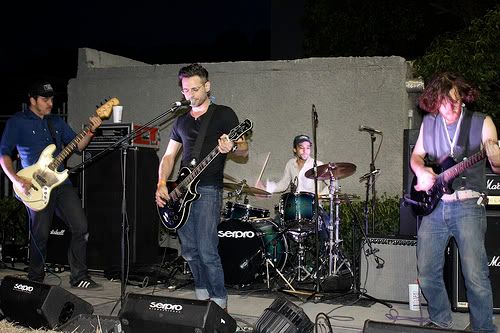 The second biggest turnout arrived for The Volture, which includes 60 Tigres' guitarrist, Alejandro Elizondo, on drums. Darker by then, the crowd jumped around to the garage/rock beats while the singer switched from Spanish to English from song to song.
Around the corner, at the blue stage, people listened to very different music from what was heard from the red stage. Quid Comba entertained the crowd, with its funky hip-hop, clearly influenced by the genre's '80s NYC roots like Public Enemy.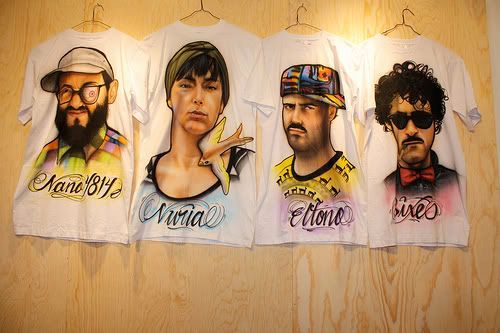 The day went on, with band after band luring more guests in. The lineup included artists such as Awesome Color, Juiceboxxx,Yacht, She's a Tease and Austin's own MVSCLZ. Yppah, from Houston, relaxed the crowd with dreamy atmospheric beats in the blue stage. Sebastien Schuller had a similar style, mixing acoustics with electro beats, him the center of dozens of camera flashes, photographers' eyes stuck to their lenses.
People weaved in and out of the main building, which contained an art gallery full of metallic pieces and famous Monterrey landscapes made of wooden sticks. Corn vendors were kept busy all day, and whomever didn't eat corn carried a bag of Tostitos drenched in salsa, along with their beer.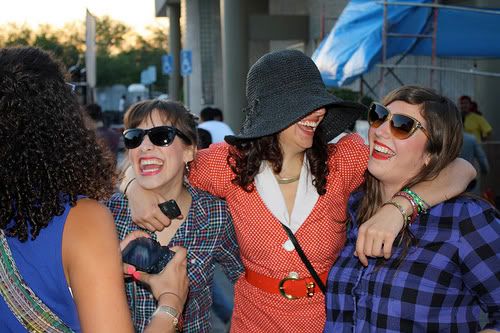 Like a smaller Coachella Festival, part of the fun of Nrmal was people-watching, on the lookout for fascinating outfits and intriguing personal style. Both girls and guys wore colorful tees and second-skin jeans or shredded leggings and chunky Doc Martens. The scenesters concealed tired eyes behind Ray Ban wayfarers and dangled Marlboros from orange-polished nails. The typical San Petrino, clad in Armani or BCBG instead of vintage or American Apparel, listens to whatever's playing on the radio and wouldn't really attend this event unless Lady Gaga was playing. Which is why none of these people were my friends—no offense to the alternative, the indie, or whomever was at Nrmal. I just tend to hang out with a lot of fresas.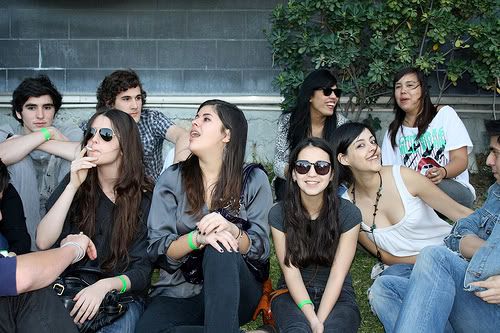 Festival Nrmal went on until 2 a.m. People left dragging their feet and tweeting about their favorite bands. After a day of interviews and taking pictures of sexy musicians, my hair brittle and dirty with a slight stench of beer, I was happy. Happy for the music that's finding a home in a city in which kids look for escape everyday. Happy to have been surrounded by my city's mountains all day, and happy I can write about this and actually get to call it work.
All photos by Eugenia Vela and Sofia José. See more on Austin Vida's Facebook page.