Orion Garcia, member of the Peligrosa DJ collective, chose Sesame Street's Bert as his avatar during Facebook's Doppelganger Week, presumably because he also has a thick, dark unibrow. He and the rest of the Peligrosa DJs—Hobo D, Manolo Black and DJ Dus—are becoming a downtown Austin staple, spinning at least four times a week, separately or collectively, at their Latin-themed events. Garcia could tweeze, shave, thread or wax, but he rocks his parties with a caterpillar on his brow.
"I think the main thing is to show people that you're having a good time doing what you're doing," says Garcia. "You can come in and just be sweating and banging over what you're playing, and everybody sees you having a good time and they think they could have a good time too."
Sure. If Garcia can have a great time dancing over his 1200's and looking like Ernie's homeboy, what's your excuse not to?
But Peligrosa have built their name on what they play, not funny facial hair or feigned good times. Each DJ brings his own influences to their monthly events, creating a crew known for mixing salsa, merengue, cumbia, boogaloo, vallenatos, duranguense and napachata with contemporary reggaeton, b-more and hip hop. "To this day we have Peligrosa's where we just come together like butt cheeks," says Garcia. "It just goes so right." To be fair, he admits it can also go so-so, and the group dynamic is one of the most important factors pushing these DJs forward.
Garcia's musical contribution and area of expertise is old cumbia and salsa records he grew up listening to and eventually swiped from his parents, augmenting his own vinyl collection, though he's been known to drop a minimal dub mix for the right audience and holds a hump-day residency spinning jazz at Malverde. The machine behind the Peligrosa brand, he designs all of Peligrosa's distinctively retro, Latin-themed flyers featuring slogans like "Puro Exitos," plans many of their events and promotes using tools available to Web-savy marketers. And sure, sometimes he hosts a creative writing session.
"There's a saying in Spanish," says Garcia. "Dime con quién andas y yo te digo quién eres. I try to surround myself with people that are like-minded."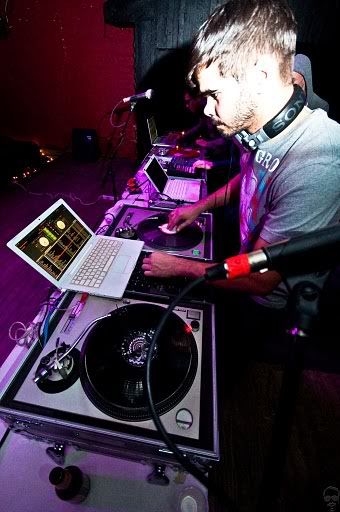 A self-described "Puerto Rumbian," Garcia was born in Panama and then transplanted to Germany with his military family, where he remembers being able to pick pieces off the wall separating East and West Berlin. He also remembers his parents' music tastes in cumbia and classical music. "What makes me like to play the Latin music that I play now is seeing my parents invite poeple over, have dinner, play loud music and just enjoy themselves thoroughly, and not be on any kind of drugs or any kind of high," says Garica. Before he began DJing, he ended up in Texas where he played bass guitar in a math rock band and founded Raw Word Records, then an offshoot of a banned high school zine that incorporated the anarchy symbol into it's title, "Where There's a Will there's an 'A.'" Today, Raw Word is an umbrella for all of Garcia's projects, including the recent release of Carajo Colombia, a collection of his own edits and remixes.
When I meet Garcia, he's in the midst of mastering the music on Carajo, but has since held the release party in New York City at the Santos House party and guested on East Village Radio. Carajo Colombia is available online for free, though donations are accepted.
"A lot of the songs are older songs," he says, describing tracks such as "Ritmo de Juventud" and "La Burrita," which are familiar to Peligrosa fans. "I just added a beat, like Baltimore club flavor to it or house flavor or funk flavor to it," he says. "And as soon as I get done, I have another body of work that is just gonna go out right behind it. This is my year to just get all this stuff out."
Garcia hoped to release a collection of music created by the entire group of Peligrosa DJs instead, but only two of the others ever dabble in production. Hobo D, for example, only recently got a copy of Ableton Live 8, but Garcia, who caught the touring bug while DJing on American and European tours with Yo Majesty, is optimistic about the future. After two years of nurturing the Peligrosa party the crew shows no signs of slowing, and touring might be the next step.
"I really wanna put my boys on," he says. "I wanna get us all out on the road doing a tour together. And it's gonna get there it just takes time. We all have to be tight, come together."
Photos by Marcos Molina.