Viva La Vida 2009
On Saturday, Oct. 24, expect downtown Austin to seem otherworldly.
On that day, as the living ready their homes with ofrendas to welcome the souls of their deceased loved ones, Mexic-Arte Museum will present its 26th annual Dia de los Muertos event, renamed this years as Viva la Vida Festival. Since its founding in 1984, Mexic-Arte has been the official state-designated museum of Mexican and Mexican-American fine art.
"In our circle of those who are involved with the museum, which includes members of the Latino/Hispanic community and the non-Latino/Hispanic community,hadn't really thought about how Dia de los Muertos could be perceived by those who aren't familiar with the tradition," said Alexandra Landeros, public relations and membership director of the museum. "You know, they don't quite understand. 'Day of the dead' and skeletons everywhere!'"
Landeros explained that the museum is re-branding the traditional Mexican holiday and renaming the festival in an effort to bridge a gap in the community and to boost cultural understanding. Landeros, who has worked at the museum since early 2008, has been a pivotal force behind the planning of the event for the last two years.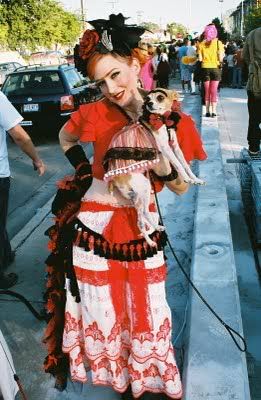 Dia de los Muertos 2008
photo provided by Mexic-Arte
"It is not a sad and spooky tradition," she said. "It is one full of happiness and life."
Austin Vida is an official co-sponsor of this year's event, along with a number of other corporate, media and education organizations. The festival always features scores of things to do. But the pinnacle of the day's events is the grand procession, composed of a joyous hodge-podge of chihuahuas, Frida Kahlo lookalikes and skeletal costumed participants hoisting paper mache skulls into the air.
"This year with Viva la Vida, it's about celebrating not only loved ones who are no longer with us, but it's also about celebrating those with us and alive and doing well," said Robert Manzo, the festival's procession coordinator.
Manzo said more than a thousand people participated in the procession last year, which was the 25th. He also expects the number of participants to keep growing.
"It's crazy to think we used to have this event inside the museum and then we just couldn't fit anymore," he said. "I think it's beautiful because Austin is growing and so are these activities."
Dia de los Muertos has been celebrated in Mexico for thousands of years. On Nov. 1 and 2, in Mexico and now in the United States, generations pay homage to their ancestors and to the unyielding succession of life and death. The idea is that, guided by sweet-smelling trails of glowing and golden cempazuchitl flower petals, the spirits will tread back to reunite with their living loved ones. The tradition is founded on the belief that the souls of the dead can visit their relatives and friends in this world on these days. And while visiting, they will partake in the pleasures of their former lives, which are laid out as ofrendas on their family's altar. The idea is that they will sip beer, smoke a cigarette or enjoy a little nibble of pan dulce.
The festival's logo has a high level of importance, as it goes side by side with the name change. Notably, it incorporates a traditional and colorful calavera, adorned with cempazuchitl flowers, butterflies and sunflower eyes, resting atop a slice of watermelon. Cempazuchitl, or marigold, is the flower of the dead. It is said to lead the spirits back to their homes with its remarkable and beautiful scent. Landeros explained that the festival's namesake, alongside the usage of a watermelon in the logo, is symbolic in merging the old elements of the festival with the new.
"Frida Kahlo's last painting is of a watermelon with the words 'Viva la Vida' etched into it," Landeros said. "We thought, 'That's great! Let's call it Viva la Vida Festival.'"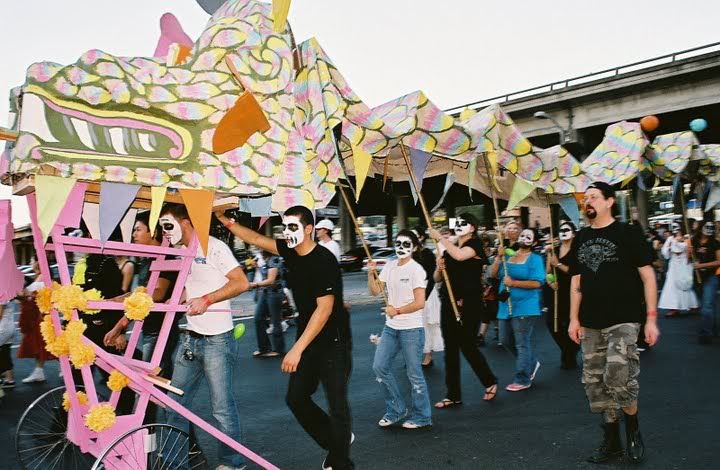 Dia de los Muertos 2008 / photo provided by Mexic-Arte
Landeros said the logo brings everything full circle, considering Mexic-Arte is the official sister museum of the Diego Rivera and Frida Kahlo Studio Museum in Mexico City, and considering that the tradition of Dia de los Muertos is about the cyclical process of life and death.
Other elements of the festival will promote health and environmental awareness, thus building on the themes of reuse, recycle and regeneration. Aside from the celebration of the life/death cycle, various aspects of the traditional Dia de los Muertos activities promote the reuse of materials, including the reuse of paper to prepare paper mache skulls. 
"We keep doing more and more research on the pre-Columbian concepts and this year we have focused increasingly on regeneration and we have included the theme of being healthy," said Executive Director Sylvia Orozco, while carefully cutting patterns into black paper to make papel picado. 
"That is why eating is such a regenerative event," she began. "You are, in a sense, eating death, because the animals and things you eat have lived and are now dead, but when you eat them they cycle into energy and give you life, right?"
"Everything is cyclical, death gives life and so on," she said. 
To continue in this vein and to make the festival particularly eco-friendly, Mexic-Arte Museum encouraged all artists and festival-goers to create their work out of reused and sustainable materials.
"We are encouraging those in procession to use recycled costumes, too," Manzo said.
Mexic-Arte has also teamed with Mellow Johnny's, an Austin bike shop owned by Lance Armstrong, to promote healthy living and to provide a free bike valet service to participants. Manzo excitedly added that the bike riders can participate in the grand procession.
At the festival, attendees can also enjoy numerous hands-on art activities including do-it-yourself altar building, mask painting and paper flower making. They can meander through the florid Dia de los Muertos marketplace to purchase sugar skulls, while listening to the musical performances of local bands Charanga Cakewalk and Bocastría. Many nonprofit organizations will have booths, including ALMA, Cine las Americas, Teatro Vivo and more.
"The best thing about Viva la Vida Fest so far has been getting phone calls and e-mails from so many different individuals and organizations who haven't been involved with Mexic-Arte Museum before and want to participate," said Landeros in a follow-up e-mail. "This event is truly bringing together communities in Austin to celebrate life."

For more information on the Viva la Vida Festival's schedule of events, visit the Mexic-Arte museum's official website. Get up-to-the-minute updates on Twitter. Add Mexic-Arte on MySpace and Facebook.
—
Alysha Hernández is an Austin Vida staff writer.
Her personal blog is No Mamas, Guey!