Echoing the ongoing "tortilla crisis" in Mexico, there comes a politically motivated exhibit that incites thought about the importance of this dietary staple and its derivative, maize.
A quick Google search of the keyword "maize" draws up hundreds of links discussing, reporting and critiquing its geopolitical, nutritional and historical importance. As was reported by various news media in 2007, dramatically rising international corn prices led to the doubling of tortilla prices.
Political, financial and dietary unrest ensued, as did artistic inspiration.
El Maíz es Nuestra Vida / Maize is Our Life features the work of about 20 female artists, the large majority of whom are from Mexico. It delves into the political debate about the symbiosis of nature, the inflation of maize and the resulting conflict about human populations feeding off of genetically developed corn. The exhibit also harkens back to the cultural memory and relationship between Mexico and maize that stems from Mesoamerican myths and continues into today's Mexican and Mexican-American societies that can be expressed in one word: tortillas.
All-in-all, it's deep stuff, sprinkled with the mindset of the 1970s cult classic Soylent Green—only this is real. The exhibit is on display through early June at the Mexican American Cultural Center, or MACC.
The El Maíz es Nuestra Vida / Maize is Our Life exhibit and public awareness effort is spearheaded by Marietta Bernstorff, director of the MAMAZ Collective. The exhibit includes an educational workshop that discusses the history of the maize shortage and the cultural memory of maize. The same year as the "tortilla crisis," the exhibit debuted at Curtiduria in Oaxaca, Mexico, where Bernstorff was working.
"This exhibition uses maize as a symbol to guide the public through the history of the Americas, to demonstrate how it has become a source of food for numerous cultures, and question why this native seed is in danger of extinction," Bernstorff wrote in the exhibition's informational statement.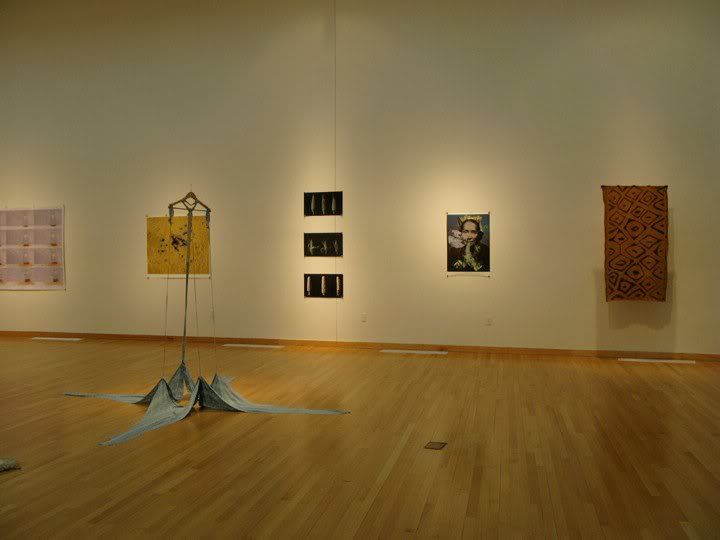 The all-woman collective is a nonprofit group based out of Oaxaca with the intense desire to raise awareness about the environs and the geopolitical importance of maize. Despite distance, MAMAZ membership includes women united by the same purpose spanning Canada, Mexico and the U.S.
"Through art and cultural workshops, we discuss the health hazards that we face as a global community overwhelmed by industrial food that is high in sugar and with very little nutritional value," she writes.
The exhibit, curated by Claudia Zapata, a 25-year-old art history dynamo, explains that the exhibit is important in its exploration of the political, historical and cultural symbolism of maize. Zapata, who specializes in pre-Columbian art, received her bachelor's and master's degrees in art history from the University of Texas at Austin. She earned her chops interning and curating at various nonprofits and museums around town, including Mexic-Arte Museum.
After attending conferences and giving lectures, Zapata said she was drawn to the curatorial, not professorial, aspect of art history because she is passionate about dispersing art and knowledge to the public, rather than just discussing didactics amongst other art history professionals.
"I am more of a social person; I can't just huddle in this room with a million books. I need to be moving and talking to real people," she said. "I don't really identify with the conference way of presenting artwork and talking about artwork because it doesn't feed into the general public and that's who needs to be talking about it."
Tickled by the all-woman lineup, Zapata admitted that this art show may be a bit more polarizing for that reason and because of the political subject matter.
Next on Zapata's plate? Curating Mexic-Arte Museum's 15th Young Latino Artists exhibit this July and MACC's Mexican Independence Exhibit in September.
El Maiz es Nuestra Vida/ Maize is Our Life: April 11 – June 5 at Mexican American Cultural Center, 600 River Street. Free Admisson (512.478.6222 or http://www.ci.austin.tx.us/macc/).